We are currently in the middle of a glorious English summer and that means a large percentage of the population is glued to the television watching the greatest tennis competition in the world – Wimbledon. To keep in the spirit of tennis and all the memories of hot, sunny afternoons indulging in strawberries and cream it evokes, let's talk about RSI.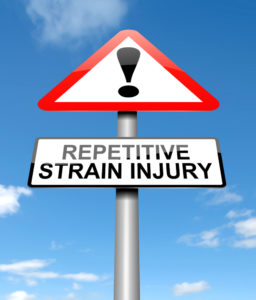 Now you are probably struggling to conjure up pleasant connotations between Wimbledon tennis and RSI.
However, it is important to be aware and know how to protect yourself from this condition, because if it develops it can cause a great deal of pain, may require surgery and even prevent you from being able to continue with your chosen field of employment.
What is RSI and what is the Connection with Tennis?
RSI is the name given to a collection of conditions which affect the muscles, tendons and nerves of the upper body. Classed in two categories, Type 1 RSI (which is a recognised medical condition) includes carpel tunnel, tendonitis, writer's cramp and tennis elbow – aha.
RSI is mainly caused by performing frequent movements with the upper part of the body. However, the exact reason it develops and why some people are affected and others never experience any symptoms at all is not clear. Examples of repetitive activity which may lead to RSI include:
Typing on a computer and using a mouse
Performing similar repetitive tasks on a production assembly line
Playing sports that use the same muscles over and over such as golf and tennis
Poor posture while performing certain tasks also raises the risk of developing RSI, as does working in cold climates and with vibrating equipment.
Symptoms
It is very important to treat RSI as early as possible. It is too easy to ignore a niggling pain around your upper arm or in your hand; however, the longer you leave RSI untreated the more likely it is to develop into a debilitating, painful condition.
The symptoms of RSI vary but you need to watch out for the following if you are working in an occupation which requires repetitive use of certain muscles in the upper body.
 A sharp pain or dull ache
Weakness in the joint
Stiffness
Tingling
Numbness
How To Prevent RSI Developing
As always, prevention is better than the cure. There are several ways to protect your upper body and prevent RSI from developing. These include:
When typing, ensure your wrists are in a neutral position and your keyboard is below elbow level (ignore those little height adjustments at the back of your keyboard) and use a gel wrist pad when using your mouse.
Your mother was right, it is important to sit up straight and watch your posture. Slouching over your keyboard increases the risk of RSI.
After 30 minutes of repetitive activity make sure you take a break. There are many RSI exercises available on the internet; you can perform these during your break to stretch and relax your muscles.
If you sit down for most of the day make sure you have a good quality office chair which can be adjusted to suit your posture and height.
Your Rights
Your employer has a legal duty to safeguard your health and safety under the Health and Safety at Work Act 1974. Vibration is a major cause of RSI, therefore The Control of Vibrations at Work Regulations 2005 requires employers to undertake a risk assessment on their employees and, if necessary, keep to a minimum the amount of vibration an employee is exposed to during the day.
Your employer needs to ensure that you have the correct equipment and training to prevent RSI injuries and that you take regular breaks from repetitive work.
Many types of employment raise the risk of RSI but by ensuring that you educate yourself, you should be able to avoid this painful and potentially incapacitating condition.
At Russell Worth Solicitors we specialise in personal injury claims. If you have suffered an injury because of an accident that was not your fault and would like a free claim assessment, please call us now on 0800 028 2060 or complete our Online Claim Assessment.