The perils of potholes have become a standard joke for those living in the UK, rather like the weather.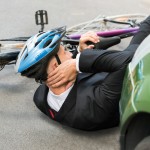 Not only do they seem to multiply on a daily basis, they seem to appear out of nowhere at the last minute, often giving us no time to avoid them. For most, potholes are simply an annoyance leading to a less than entirely comfortable journey. For others, potholes can and have proven life changing, if not deadly. In this article, we will explore why potholes seem to keep growing in number in the UK, the prevalence of serious injury of death as a result of potholes, the common injuries that can arise, what can be done to avoid injury, who is responsible and claiming compensation.
The causes of potholes
A pothole occurs when due to the ravages of rain, ice (and its subsequent thawing) and vehicle use, a road's surface weakens, leading to part of the road coming loose and thereby leaving a defect. Such defects can occur very quickly. But why are potholes so common in the UK? In short there is a serious lack of funding for road maintenance, so much so, it is estimated that the money now needed to address the pothole issue is in the region of £14bn, according to Sam Jones, Campaigns Co-ordinator at Cycling UK, talking to the Independent. The government's own statistics show that 50 cyclists are killed or seriously injured annually as a result of defective road surfaces, and this is likely to increase if adequate funding is not put in place.
Fatalities caused by potholes
Mother of three, Kate Vanloo, a highly-experienced cyclist and triathlete was tragically killed in January 2016 when, after accidentally hitting a pothole, her bike was propelled into oncoming traffic. Ms Vanloo was pronounced dead at the scene. It transpired that the road on which she was killed was due to be re-surfaced but this had been delayed on request by a local farmer who wanted to sell Christmas trees from his farm. In another case in 2015, according to the Independent, a man was killed whilst taking part in a charity bike ride from Land's End to John O'Groats. It was reported that the man's wife was awarded a six-figure sum following a claim for compensation.
Cycling injuries
According to data from The Royal Society for the Prevention of Accidents (ROSPA), cycling accidents tend to lead to upper limb and head injuries in 40% of occurrences. Head injuries are one of the leading causes of cyclist fatalities, often due to catastrophic skull fractures. It is possible to reduce the chance of serious head injury by taking simple precautions, should you find yourself the victim of a cycling accident on the road.
Reducing the risk of injury or death – do cycling helmets really help?
In short, yes. According to a meta-analysis of 40 research papers reviewed by Australian statisticians Jake Olivier and Prudence Creighton from the University of New South Wales, "Helmet use is associated with odds reductions of 51% for head injury, 69% for serious head injury, 33% for face injury and 65% for fatal head injury". So whilst a cycle helmet won't help avoid an accident caused by a pothole, regardless of the pattern of events that occurs after a hitting a road defect, the chances of survival are markedly increased if the cyclist is wearing a helmet.
Who is responsible for accidents arising from potholes?
The Highway Act 1980 defines that it is the Local Authority who is responsible for maintaining the public highway. So surely it follows that if the road surface was inadequately maintained, the Local Authority were negligent? Not necessarily; the burden of responsibility for injury resulting from a pothole is not quite as cut and dry and you might expect. According to British Cycling, the governing body of the sport, UK courts, in an effort to limit the liability of highway authorities, allow a statutory defence if it can be shown that all reasonable steps were made to maintain the road to standard required to handle regular traffic.
How to claim compensation
If you or a family member have been the victim of a cycling accident when riding through a pothole, which caused injury, it is recommended that photographs of the hole be taken, showing all measurements of the defect and an exact description of the immediate proximity of the accident including junctions, round-abouts, lane signage, road names. It is common for local authorities to request potholes on roads and pavements to be filled immediately after an incident, so hard proof of the existence of the defect is paramount. Given the difficulty of proving negligence because of the courts current stance, it is crucial that expert legal guidance is sought, in order to bring about a successful claim.
At Russell Worth Solicitors we specialise in personal injury claims. If you have received an injury when cycling due to a pothole, and would like a free claim assessment, please contact us today.
Free Claim Assessment
If you have been injured and would like a free Claim Assessment so that you can discover your rights, please call us now on 0800 028 2060 or complete our Online Claim Assessment.