Just before Christmas, 2016, Jamie Mines was working on the construction of a temporary shelter at Swindon's Kendrick Industrial Estate. The experienced scaffolder was holding a tin sheet when 33,000 volts of electricity shot through his body.
He was thrown 13 feet and described the pain as feeling like "his body was on fire".
According to The Sun, Mr Mines spent 10 weeks in intensive care, where he was put into an induced coma for three weeks.
In the three days following the incident, surgeons amputated his right leg, left forearm and half his left foot. Ten days later, his right arm was also removed.
He also suffered a burnt vocal cord and sustained injuries to his kidneys, leaving him urinating "thick black sludge" for weeks.
He began to regain strength in March this year and was moved to a rehabilitation centre in Oxford, where he went through the painstaking process of learning to walk and talk again.
Mr Mines employers, Boundary Scaffolding, are being prosecuted for offences under the Health and Safety at Work etc. Act 1974.
The devastating injuries caused by electrocution
Electrocution can cause horrifying external and internal injuries, even death.
Electricity burns a path through the human body causing damage to internal organs.
There are four main types of electrical injuries:
 Muscle spasms – following an electric shock, victims can often suffer the painful loss of muscle control which can result in broken bones and dislocated joints. Muscle spasms can result in the victim being unable to let go from the source of the electric shock, causing further injuries.
Electrical burns – as the electrical current passes through the body, it heats the tissue causing major internal damage and excruciating pain.
Thermal burns – when a person receives an electric shock, the electric current enters and exits the body. The points at which this happens can result in devastating external burns.
Injuries caused by falling or being thrown as a consequence of the electric shock – even a minor electric shock can cause a person to fall from height or be thrown into the path of hazards, such as machinery, structures, and moving vehicles.
Treating an electric shock victim
High voltage electric shock
Overhead power cables pose a significant risk due to very high voltage electricity which can 'jump' or 'arc' up to distances of 18 metres or over. Do not approach a casualty who has received a shock from high voltage electricity; stay at least 25 metres away from the victim until the power has been switched off by an official agency i.e. Electricity Board.
Low voltage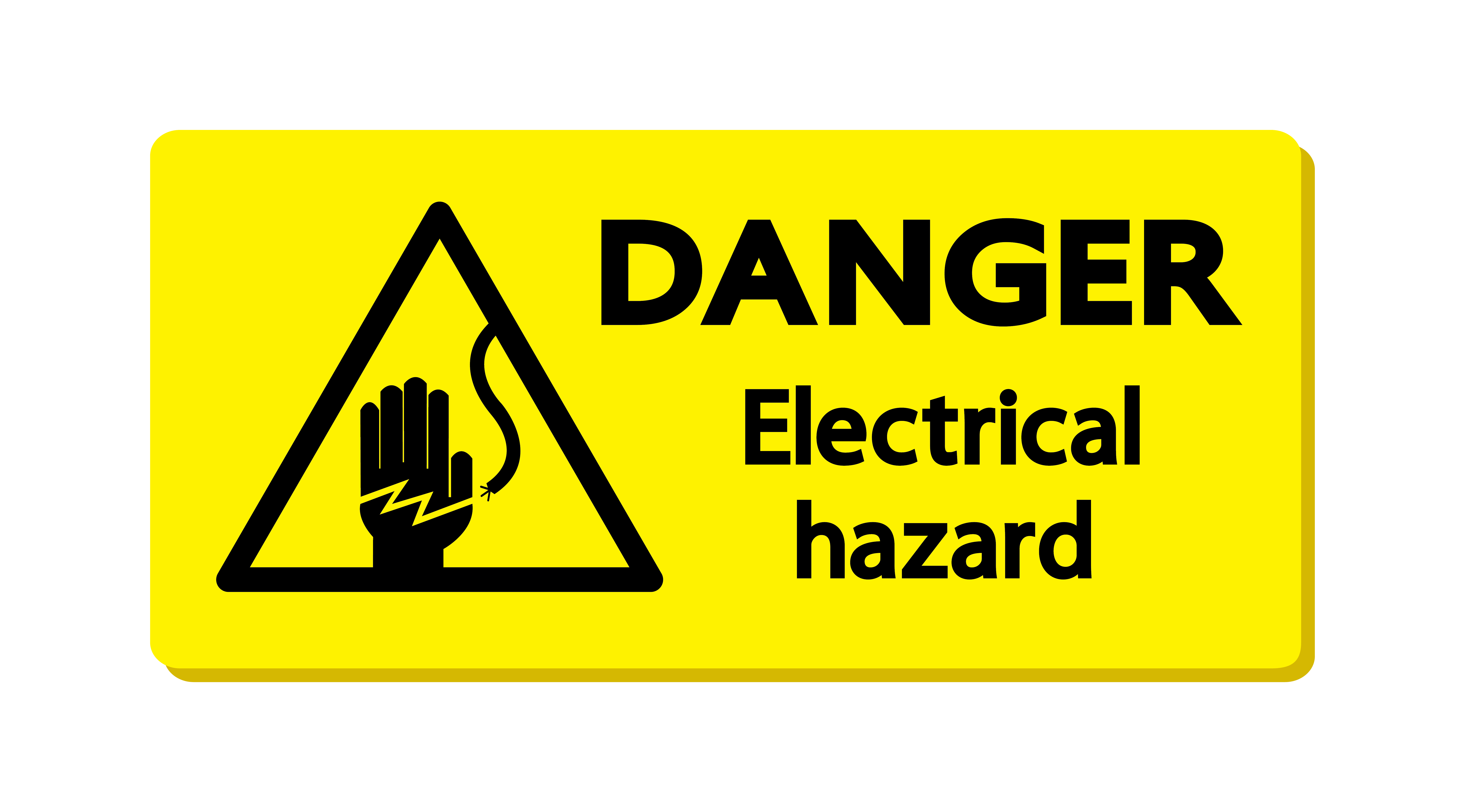 If you witness a colleague receiving an electric shock, these are the steps you can take to help them.
Look after yourself first – if the victim is still connected to the source of the electric current, you could suffer a severe electric shock if you touch them. Turn off the source of the electricity; if possible, have someone turn off the main supply.
If you cannot turn off the supply of electricity, you can break the victim's contact with the source by standing on an insulating material, such as a wooden box or plastic mat (make sure it is dry). Use a wooden pole to push the victim's limb away from the source of electricity.
Call 999.
Check if the victim is conscious. If they are not breathing, you may need to perform CPR. If they are breathing, check for any obstructions in the mouth and put them in the recovery position.
If the victim has received a burn, run it under gentle cold water for at least 10 minutes.
In the case of muscle spasms, place something under the head of the casualty to prevent injury (for example some clothing) and loosen any material which may obstruct the airway (such as a tie).
Make sure you report the accident correctly. If the injuries received are serious, the accident must be reported in compliance with the Reporting of Injuries, Diseases, and Dangerous Occurrences Regulations 2013 (RIDDOR).
Claiming compensation for workplace electrical injuries
If you have suffered an injury following electrocution, you may be entitled to receive compensation if your accident was caused by your employer's negligence.
Injuries resulting from electrocution can require extensive time off work and rehabilitation. Claiming compensation can help pay household bills whilst you are recovering.
At Russell Worth Solicitors we specialise in personal injury claims. If you have suffered an injury because of an accident that was not your fault and would like a free claim assessment, please call us now on 0800 028 2060 or complete our Online Claim Assessment.