We have put together the following guide to staying safe over the Christmas period and whilst some of it may seem like common sense you would be surprised at how many injuries are sustained over the holidays just by people failing to adhere to simple safety rules.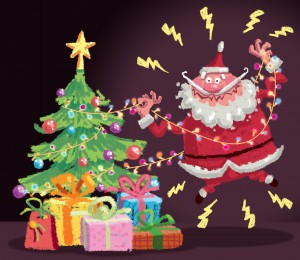 Don't go up into the loft when you're alone in the house – make sure someone is on hand to pass boxes down to.
Don't stand on chairs, stools and sofas when decorating high branches of the Christmas tree – a step ladder is a much safer option.
If you have a real Christmas tree, be sure to unplug the lights before watering it.
Check your fairy lights and other electrical items to ensure wires are not frayed etc. if they are, dispose of them.  You don't want to risk electrocuting Santa!
Switch off all fairy lights etc. before going to bed at night and if you go out.
Be careful not to overload electrical sockets with too many extension leads etc. as this can lead to over heating and fire.
After the Big Man has been be careful opening your presents – you'll need scissors and maybe even a screwdriver to tackle tricky packaging (kids' stuff especially!)
Keep on top of mess and discarded wrappings.  Toys and trailing wires left on the floor can lead to slips and trips, especially when elderly relatives are around.
Keep lights on in hallways at night to help overnight guests find their way to the bathroom without falling or tripping over.
Don't leave burning candles unattended or near cards/decorations as this presents a fire risk.
When playing interactive games such as Wii, PlayStation or Xbox, make sure you've left enough space around you and ensure you use the wrist straps on hand-held controllers.
Above all else – have fun!
Have a safe and Merry Christmas from everyone at Russell Worth.
Free Claim Assessment
If you have been injured and would like a free Claim Assessment so that you can discover your rights, please call us now on 0800 028 2060 or complete our Online Claim Assessment.