Britain used to be a "nation of shopkeepers", but there is little doubt that the shape of our retail industry has been changed beyond all recognition by supermarkets and Internet-based commerce. Retail employment fell by 62,000 in 2017 due in large part to the pressure placed on traditional bricks and mortar retail businesses by their digital counterparts ; this was the largest drop across all sectors according to the Office for National Statistics (ONS). Regardless of this fall, there are still in the region of 2.9m people employed in the retail industry, and as such is one of the largest providers of jobs in the UK.
The most common causes of accidents in the UK retail sector include manual handling, slips & trips, violence, falling from height, and incidents relating to workplace transport.
Manual handling accidents in retail
Manual handling refers to the lifting, putting down, pushing, pulling, carrying, or moving of loads by employees – either by applying bodily force, or using the hands . Any excessive load, if not handled correctly can lead to a serious injury, which can have long-term or even permanent consequences.
In May 2018, the Co-operative Group was fined £333k after an employee was seriously injured while handling a defective roll cage. The accident occurred in February 2016, when the worker was manoeuvring a cage of milk cartons; due to a fault with the trolley, the cage toppled onto the individual's legs, causing multiple fractures. During an investigation by the Health and Safety Executive (HSE), it was discovered that staff were aware of the problem with the trolley two days prior to the accident, but even though the Co-op had a policy for the management of defective trolley cages, this was not implemented as staff were not aware of the policy. In addition, staff did not understand their own responsibilities with regard to health and safety in the workplace, highlighting the lack of effectiveness of the online training provided by the Co-op, and putting into question who was actually completing it. The Co-op pleaded guilty to breaching s 2(1) of the Health and Safety at Work Act, which because it was entered early resulted in the fine levied being reduced from £500k to £333k.
The Manual Handling Operations Regulations 1992 (as amended) (MHOR) exist to place a clear legal duty on employers to ensure that employees are not at risk of musculoskeletal disorders due to manual handling. To achieve this, employers must identify such risks within the work environment, and control them by applying a three-step tiered approach :
Avoid – hazardous manual handling operations where possible;
Assess – any hazardous manual handling operations that cannot be avoided; and
Reduce – the risk of injury so far as is reasonably practicable.
Slips and trips in the retail sector
Slips and trips are a considerable risk factor for retailers, both in terms of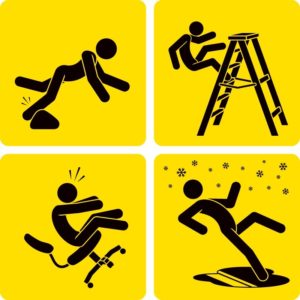 customers and workers. Often retail establishments have large floor areas with many potential causes of slips and trips – both indoors and outdoors.
Inclement weather, a leaky roof, and spillages are just some of the common underlying causes of such accidents, therefore it is vital that as much as possible is done to ensure everyone plays a role in keeping the work environment safe. According to the HSE, most retail slips and trips occur because :
smooth cleaned floors are left wet;
spills are not cleaned up quickly and effectively; and
floors are not kept free of contamination.
The Management of Health and Safety at Work Regulations 1999 mandates that employers must assess risks, including those of slips and trips, and act on them appropriately. Also, the Workplace (Health, Safety and Welfare) Regulations 1992 place a specific onus on employers to ensure floors are fit for purpose, well maintained, and unobstructed.
While the potential for slip and trip accidents may be high, the ways to mitigate them are well proven and straightforward. For example, many accidents are due to floors which are still wet following cleaning, therefore it is crucial employees are trained in proper cleaning techniques to clean up spillages promptly, use the correct cleaning product with the appropriate dilutions observed, and ensure the dryness of the floor before allowing pedestrians access. In addition, safety floor matting, footwear, signage, prompt identification and repair of leaks, and designing tasks to reduce spillages are all ways to reduce or eliminate the chance of slip or trips in the workplace. And it goes without saying that while employers have a legal duty to ensure these risks are controlled, employees must also observe protocol with regard to the potential for slips and trips and do everything they can to ensure the safety of their colleagues.
At Russell Worth Solicitors we specialise in personal injury claims. If you have suffered a workplace injury and would like a free claim assessment, please call us now on 0800 028 2060 or complete our Online Claim Assessment.