Cycling is more popular than ever in the UK. The massive international success of British cycling over the past decade has boosted the sales of bikes; so much so that in 2013, more new bikes were sold (3.3million) than cars (2.2million). According to British Cycling, in 2015, 100,000 more cyclists were using bikes at least once a week than in 2012.
More cyclists means more accidents
With the steep climb in cyclists on our roads, it is unsurprising that the number of accidents is on the up. Statistics show that in 9 out of 10 years from 2004, the number of serious injuries increased each year. In 2014, 113 people were killed and 3,401 seriously injured whilst cycling in Britain, 11% of these being children.
Speaking in the Telegraph, Dr Rachel Aldred, a sociologist and expert on cycling for transport at the University of Westminster, expressed the view that it would be wrong to focus primarily on the deaths that occur: "Yes, deaths often rightly hit the headlines. But serious injuries can involve lives being cut short and serious disabilities." In the same article, Ed Morrow who represents Brake, a road safety charity, discussed the worrying upward trend in cycling accidents on Britain's roads, stating: "There are more incidents happening where people's lives are being put at risk. This isn't just a statistical blip. This is a serious long-term trend."
Accidents can occur whilst riding a bike for a multitude of reasons; the most common based on research by The Royal Society for the Prevention of Accidents (RoSPA) are as follows:
Cars emerging into path of cyclist
Cars turning across path of cyclist
Cyclists riding into the path of a motor vehicle, often riding off a pavement into oncoming traffic
Children playing or riding too fast on their bike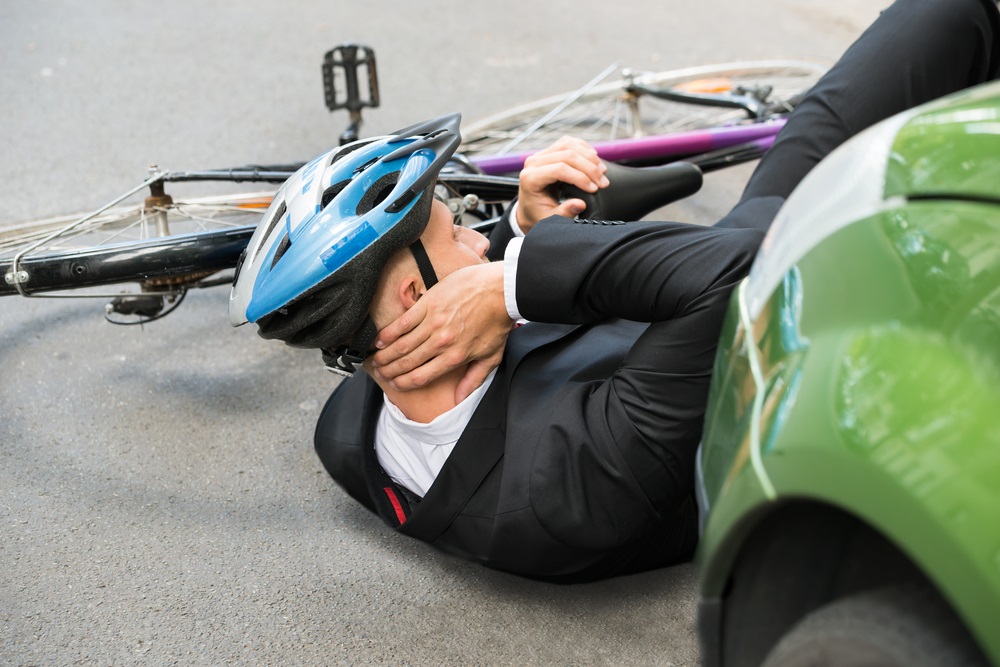 Instances of cyclists being seriously injured or killed are all too common
In one very high profile case, on 5thJanuary 2017, Lord Michael Heseltine appeared in front of Magistrates in Northampton after he was involved in an accident which resulted in serious injuries to a cyclist. The 83 year-old former deputy prime minister pulled out of a junction in Thenford, Northamptonshire and hit the cyclist, causing serious arm and leg injuries. After pleading guilty, he was fined £5,000 and was given five demerit points on his driving licence.
In another accident on the very same day Lord Heseltine was in court, Fred Dowling (52) was killed when he was hit by a van whilst riding his bike near Legoland in Windsor. In this tragic case, the driver did not stop at the scene, leaving a much loved and popular family man to die as a direct result of his negligent actions.
Keeping safe on the roads
As a cyclist, whilst you can't control how others behave on the road, there is a great deal you can do to keep yourself safe, by ensuring that you:
Observe the highway code (most importantly don't jump red lights or cycle on pavements).
Wear a helmet – whilst this will not prevent an accident it could save your life if you are involved in a collision
Can be seen (use lights, high visibility clothing and a bell)
Are wary of vehicles around you – don't assume they have seen you, or will do what you expect
Maintain your bike fully – ensure your tyres are in a good condition, fixings are secure and your brakes work.
Can you make a claim if you are involved in a road accident as a cyclist?
Cycling accidents can result in severe and life-changing injuries, meaning you may be unable to work for a long period. Victims can also incur large costs, perhaps for physical therapy, counselling, house modifications or equipment to assist in daily living. If you are considering making a claim to help recover these costs, you will need to speak to a personal injury specialist who can advise if you have a case for compensation. If the accident happened because of the negligent act of a person or organisation, you may be able to seek compensation.
For example, if you were hit by another motor vehicle, it will be necessary to establish if the driver was at fault. Or, if the accident occurred due to a poorly maintained road, and a strong case can be made that the lack of maintenance (e.g. if a pothole required repair) led to the accident, you may have a case against the local authority responsible for maintaining the road.
Free Claim Assessment
At Russell Worth Solicitors we specialise in personal injury claims. If you have been injured whilst cycling and would like a free claim assessment so that you can understand your rights, please call us now on 0800 028 2060 or complete our Online Claim Assessment.