On 23rd February 2017, a student was seriously injured after a ceiling collapsed on her at Southwood school in Milton Keyes. Her injuries were initially considered life-threatening but following hospital treatment, the head teacher confirmed that she was expected to make a full recovery. A Health & Safety Executive (HSE)investigation is underway, which will consider the hypothesis that the high winds from Storm Doris on the day, may have played a part in the incident.
As parents, we rightly fully expect that the moment our children enter the threshold of a school, they are in a safe place, free from risk of serious accident. The very idea of a life-threatening incident occurring on school premises would never cross our minds as a real possibility.  However, as this article highlights, there numerous factors that pose a tangible risk of accidental injury to both children and staff in UK schools.
Epidemic of unsafe school buildings
The Royal Institute of British Architects (RIBA) in May 2016 published a report entitled, 'Better Spaces for Learning', which exposed the unpalatable reality that UK school buildings are not as safe as we are led to believe. The report makes it very clear that a large proportion of schools are in a, "poor condition or insufficiently maintained". The problem is so acute that one in every five teachers have thought about leaving their job directly as a result of the poor condition of the buildings in which they teach.
Small falls can lead to serious injuries
Most major injuries in schools, according to the National Union of Teachers (NUT) result from 'low falls' (under two metres), commonly as a result of standing on desks or chairs when putting up displays, ladders when putting up stage lighting or stools when closing high windows. Falls can also occur because of poor or badly maintained flooring, insufficient lighting, spillages, icy surfaces which have not been sufficiently treated with salt, hot water, chemicals, unsafe physical education (PE) equipment or poorly installed fixtures. In one incident in Lancashire, a student received extensive crush injuries to the spine and stomach after a cupboard fell on top of him. Thus, the local authority paid £100,000 in personal injury compensation.
Who is responsible for ensuring our schools are safe?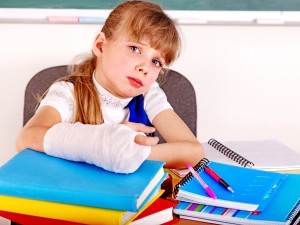 It is the duty of the employer, under the Health and Safety at Work etc Act 1974 to take, "reasonable care for the health and safety of their employees." The employer may be the local authority, governing body, Academy Trust, Proprietor, or board of trustees. Under common law, employers, staff and others, "have a duty to take care of pupils in the same way a prudent parent would do so." Whilst school staff have a duty of care to pupils, most claims for compensation are brought against the employer (given that they hold the necessary public liability insurance), rather than teachers themselves.
Keeping safe whilst at school
There are numerous ways to ensure that schools are kept safe. Some essential precautions to ensure that staff and pupils are kept safe include:
If it is essential to work at height, do not stand on school furniture – use an 'elephant-foot' step-stool or step-ladder
Ensure all areas are adequately lit
Ensure floor surfaces are even, clear of obstruction and generally safe for people to walk on
Keep furniture in good repair and secured to walls where possible
Avoid manual handling, or if it is necessary, request the services of a janitor, or use a trolley to take the load
Keep electrical cables secure and ensure regular electrical checks are carried out
Make sure that necessary fire-fighting equipment is in place, fire evacuation procedures are clearly displayed, drills conducted regularly and emergency exits always clear of obstructions
Can I claim if I am involved in an accident in a school?
If you have been involved in a serious accident in a school, as a pupil, member of staff, or visitor, you may be able to claim compensation if it can be proven that the negligent act or omission of an organisation or individual member of staff lead to the incident. For example, you may be entitled to financial compensation to cover your losses if you experienced a fall on a slippery surface due to lack of warning signage. Similarly, if you are seriously hurt due to scalding water or defective PE equipment, the school is likely to have failed in its health and safety obligations to you.
Free Claim Assessment
At Russell Worth Solicitors we specialise in personal injury claims. If you have been injured whilst in a school and would like a free claim assessment so that you can understand your rights, please call us now on 0800 028 2060 or complete our Online Claim Assessment.