Last month we looked at what you need to do to your car this winter to reduce the risks of a breakdown and make sure you are well equipped to deal with any adverse weather conditions.  This month we are focusing on what to put in your car by way of an emergency kit should you be unfortunate enough to break down.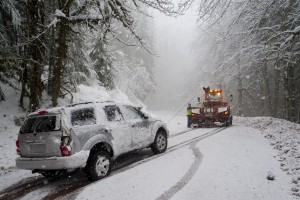 1. Travel rug, blanket or sleeping bag.
2. Snow shovel.
3. Off cuts of carpet or pieces of thick cardboard to put under driven wheels to help with traction if you get stuck on ice or snow.
4. Salt, sand or even cat litter which will help clear snow and ice.
5. Reflective clothing – at least a jacket for those dark winter days.
6. Ice scraper and can of de-icer.
7. Torch and fully charged batteries.
8. Tow rope.
9. Snow chains – for those of us that live in a rural or remote area.
10. Battery jump leads – cold weather is notorious for causing battery problems.
11. Bottled water.
12. Snacks – should you be stuck for a considerable length of time.
13. Extra screen wash.
Of course this list is not exhaustive and there are year round essentials you should keep in your car at all times such as a fully charged mobile, sunglasses, warning triangle, spare bulbs, first aid kit, atlas/sat nav/printed route etc.
We hope you stay safe and problem free on the roads this winter.  However, difficult driving conditions and shorter daylight hours can increase the risk of road traffic accidents.  Russell Worth have a dedicated specialist road traffic accident team who are here to help you if you have been involved in an accident.  If you or someone you know has been involved in a road traffic accident through no fault of your own please contact us today to see how we can help.
Free QuickClaim Assessment
If you have been injured and would like a free Claim Assessment so that you can discover your rights, please call us now on 0800 028 2060 or complete our Online Claim Assessment.