Those employed to keep our environment, workplaces, homes and public facilities clean often go unappreciated. It is all too easy to take for granted a tidy office, school, high street, or park, and to moan when it isn't. And it is thanks to the army of cleaners across the UK who make this happen, often working late at night, and in the early hours of the morning.
Cleaning as an occupation carries many potential dangers, which we will discuss in this article.
The UK cleaning industry
According to the British Cleaning Council (BCC), the UK cleaning sector is worth over £24 billion to the economy and employs just over 700,000 people . The European Agency for Safety and Health at Work (EU-OSHA) states the workforce is predominantly female (77%) across EU member states, and it is estimated a third of workers are migrants . The industry covers all manner of cleaning requirements including buildings, transport vehicles, food premises, window and facade cleaning, highways and land, carpets and upholstery.
Safety risks in the UK cleaning industry
According to EU-OSHA, there are many risks to workers, including:
Chemical hazards
Chemical hazards are a serious concern for cleaners and their employers. Individual products may in themselves be safe, but when mixed can be extremely toxic to human health. Such chemicals come in many forms, including:
Volatile Organic Compounds (VOC's) such as acetone and formaldehyde
Surfactants – chemicals used to improve the ability to remove grease and dirt
Film formers (e.g. wax)
Complex agents
Acids
Bases (e.g. potassium hydroxide)
Biocides
If used appropriately, cleaning chemicals should not pose a risk to the health and safety of workers, but employers must ensure that dosages are correct, the appropriate products are used for the task in hand, and products are not mixed when it is dangerous to do so.
The risks of chemicals to workers can include mild irritation of the eyes and mucous membranes, skin dermatitis, respiratory disorders, serious burns, and in some serious cases can contribute to serious disease such as cancer. As such, an effective training programme is essential to ensure workers understand the risks they face, and how to ensure their own safety.
Biological hazards
Biological hazards are distinct from chemical risks as they include naturally occurring, but potentially dangerous micro-organisms such as bacteria, viruses, and moulds. For example, Legionnaire's disease, a form of pneumonia, can be inhaled from water vapour containing bacteria, perhaps from a shower. When vacuuming, dust containing pathogens can be aerosolised, meaning they can be inhaled. Blood-borne pathogens are also a risk for cleaners in settings where they are exposed to used syringes. And there is a risk of viruses such as HIV, hepatitis, and Norovirus when exposed to blood and other body fluids. Animal secretions and droppings can also be toxic if ingested.
Physical hazards
There are many physical hazards to cleaners, dependent on the type of cleaning being undertaken and the setting. Common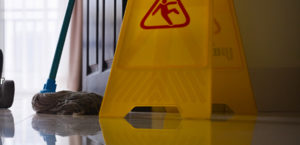 risks include slipping on wet floors, falls from ladders and raised platforms, falling objects, lacerations from sharp objects or dangerous surfaces, machinery (cleaning of machinery and the use of machinery to clean), and adverse weather conditions. It is common for cleaners to be faced with a task for which there is no safe access method provided, e.g. cleaning a stairwell, or where it is difficult to reach a particular surface or item to be cleaned. Cleaners are also frequently required to put considerable strain on their body by performing repeated actions, reaching, stretching, crouching/kneeling, and lifting, any of which can lead to serious musculoskeletal disorders (MSD's), which in turn can lead to time off work and even permanent disability. Vibrating machinery (e.g. floor cleaning machines) also have the potential to cause vibration white finger (VWF), also known as hand-arm vibration syndrome (HAVS).
And if those physical risks weren't enough, cleaners also face heat stress, the risk of burns, noise, electrocution (perhaps due to worn electrical cables which is common on rotary disc cleaning machines), exhaustion, dehydration, and overexertion.
Claiming if you have been injured in the cleaning sector
If you have been involved in an accident while working as a cleaner, and seriously injured as a result, the chances are you will need time off work to recover. You also may be unable to return to work. If so, compensation can help considerably by covering your everyday costs while not working, any expenses you have incurred as a result of your injuries, and the pain and distress suffered. To bring a claim, we will need to establish your employer was negligent, and this directly caused your accident. There is no need to be reluctant to bring a claim against your employer for fear of losing your job as all employers are required to have insurance to cover such eventualities; therefore, they will not bear the cost. And if they are not brought to account, the same accident can happen again to another work colleague, potentially with more serious consequences.
At Russell Worth Solicitors we specialise in personal injury claims. If you have suffered a workplace injury and would like a free claim assessment, please call us now on 0800 028 2060 or complete our Online Claim Assessment.