Ask anyone which occupations they believe have the highest rates of injury and they are likely to reply: scaffolders, window cleaners, construction workers, or farmers, or any other occupation that is perceived as dangerous. Not many would say data analyst, accountant or secretary. However, the reality is that injuries in the workplace are not always caused by dangerous factors – such as heights, moving objects, or heavy equipment. Even just sitting in one place repeating the same actions for many hours each day causes serious injuries for many UK workers each year.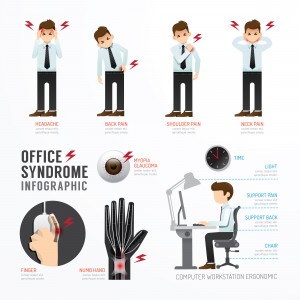 The rise of MSDs
Many of the injuries associated with desk-based roles are what are referred to as 'musculoskeletal' disorders (MSD), which covers any impairment to the tissues or joints in the upper or lower body. Being desk-based is known to particularly impact the upper body – especially causing damage to the soft tissues, ligaments, tendons, and muscles of the back, shoulders, neck, and upper limbs.
According to statistics from the Health and Safety Executive (HSE), in the year 2016/17, 507,000 workers were affected by MSD's, equating to 8.9 million working days lost. Of the half a million sufferers, 45% had upper limb or neck problems, and 38% had incurred damage to their back. While only a proportion of these are attributable to desk-based occupations, the potential impact is clear – significant time off work leading to lost productivity for employers, and employees stand to lose not only their health but also their income.
The law regarding MSD's
All employers have a legal duty to protect workers from acquiring an MSD while working, under the following laws and regulations:
Health and Safety at Work etc Act 1974;
Management of Health and Safety at Work Regulations 1999; and
Health and Safety (Display Screen Equipment) Regulations 1992
As such, MSD's are a well-established risk on the radar of all employers, as they understand the potential for serious injury if even the slightest problem is not rectified in the working environment. And that can lead to not just lost productivity, but also large claims for compensation if they are shown to have not acted promptly.
Display Screen Equipment Assessment – a vital step towards workers safety
For desk-bound workers, it is vital that the immediate working environment is optimised for long-term health. In particular, the setup of a worker's computer must be given full consideration as this can be one of the prime causes of MSD's, including conditions such as carpal tunnel syndrome (whereby the nerves in the wrist become increasing compressed, leading to inflammation and numbness in the hand), and serious neck and back disorders.
One of the main tools for ensuring that office-based workers are protected from MSD's is the 'display screen assessment' (DSE). In reality, the DSE may be carried out by desk users themselves, and then reviewed by trained workplace assessors, or it may be solely undertaken by the assessor. Either way, the process is designed to identify and mitigate any risks factors which could lead to health problems in the future, or may already have caused damage to the worker.
Ensuring a proper workstation setup from the start is key to averting later injuries which could lead to time off work, and potentially medical intervention. The DSE check looks at the suitability, fit, and use of the workstation equipment provided, including the:
chair
desk
screen
mouse
keyboard
furniture
software
general environment – in terms of temperature and light, work routine, and;
work routine
Many people underestimate how important it is to ensure that the desk, chair, monitor, mouse, and keyboard are all set up with the correct height, distance and layout. The small of the back should be properly supported, and the eyes should be at the same height as the computer display. Also, the feet should be flat on the floor, and the wrists should be straight and level. If needed, the assessor may need to provide additional equipment to provide the optimal position, such as a wrist rest, footrest, or monitor stand. And beyond physical equipment, training plays a vital part in ensuring that workers do not become injured. Starting from the employee induction, and at regular intervals, it is good practice to provide training which reiterates the importance of making sure that the workplace is set up correctly.
Claiming compensation for an injury caused by a desk-based role
If you have suffered ill health as a result of a poorly provisioned work environment, you may be in a position to seek compensation. The key to a successful claim will be proving that your employer was negligent in not providing a safe working setup, and that this was the cause of your pain and discomfort. It will be essential to know if you were given a DSE assessment and any training related to the safe use of your desk environment. Also, if you have raised any concerns with your employer, such as a request for additional equipment to improve your working environment, or if you have told them that you have been suffering pain as a result of your work setup, and this was not actioned, this may also constitute a failure on their behalf to protect your health and safety.
By engaging the services of one of our specialist workplace injury solicitors, we will help you to determine if you have a case, and if you do, we will guide you through the whole process.
At Russell Worth Solicitors we specialise in personal injury claims. If you have suffered a workplace injury and would like a free claim assessment, please call us now on 0800 028 2060 or complete our Online Claim Assessment.