For many, the first day of a new job goes by in the blur. Company inductions, health and safety briefings, and getting to know where the coffee machine are often the main highlights of joining a new employer. The health and safety aspects are often treated as something of a 'tick-list' item, but how many give serious thought to why companies invest so much time and money in showing you how to sit in your chair comfortably, and how to lift boxes? In the main, the need for such training is driven by the legal duty that employers have to ensure your safety.

Even with the considerable effort put into teaching employees how to undertake their role safely, lifting and handling accidents still account for 22% of all non-fatal injuries in the UK. With such a high volume of accidents due to poor lifting and handling techniques, it makes sense for employers to continue to drive home the message that even very simple changes to how you handle objects can protect your well-being.
Digging yourself closer a serious injury?
In January 2018, the Royal Horticultural Society (RHS) undertook a study with Coventry University into the impact that digging can have on the body. The research in the journal Hort Technology showed that just by digging with poor technique can place twice the load on the joints. According to academic, James Shippen, "The worst thing is reaching too far with the shovel. If you have got to move soil, it is so much better to take one step forward and offload the spade than to overreach". This might strike a chord with some of the millions of domestic gardeners across the UK, but it should be real cause for concern for any business whose employees are required to dig (e.g. road workers, archaeologists, landscapers), and for that matter, use their body to handle workplace tools and equipment.
The researchers used hi-tech reflective 'ping-pong' balls to measure the stress and load on the joints of the body of people digging and found that those who didn't bend their back too much, bent their knees and used smooth motions, imposed less force on their bodies. Dr Paul Alexander, head of horticultural and environmental science at the RHS, expressed the view that "our findings will help us ensure that both amateurs and professionals stay digging for longer; avoiding injury, and improving efficiency". Such research also shows that even very slight modifications in techniques can make all the difference. And while training is useful, if supervisors can be encouraged to spot signs of poor working technique in their workers, and recommend safer ways of working, this will have large benefits overall for employee and employer.
The manual handling operations regulations (MHOR) 1992
According to MHOR (the primary regulations containing the legal obligations of employers in relation to manual handling), manual handling is defined as, "…any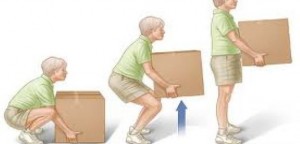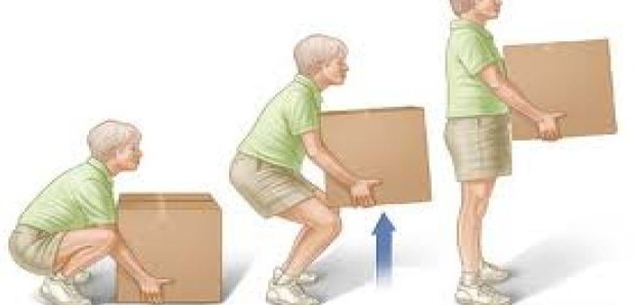 transporting or supporting of a load (including the lifting, putting down, pushing, pulling, carrying or moving thereof) by hand or bodily force ". MHOR also provides a clear hierarchy that should be used when seeking to control an identified manual handling risk – Avoid, Assess, Reduce. In an ideal world, all risks that are found during a risk assessment would be avoidable, but of course, this is not realistic. Risks that cannot be avoided should be carefully reviewed with the aim of reducing any possible injury as much as possible.
Eliminating the risk of injury
The removal of a manual handling risk may require some lateral thinking or even modern technology. For example, if a heavy load needs to be transferred from a lorry into a warehouse, to completely avoid the need to lift an excessive weight and use an awkward posture, could a power lift truck be used with a pallet truck? If there is no way to avoid moving a heavy object, can it be divided into smaller chunks, and perhaps the load be shared by two workers?
Kraft Heinz, the ubiquitous makers of the original baked bean, have made many changes throughout their manufacturing centres to improve worker health and safety. They identified that handling of packaging reels was putting their employees at risk due to the strain placed on the body when putting the roll into a machine. As a result, they have modified the height at which rolls are placed on the machines and are implementing new roll lifting devices to eliminate the human toll almost entirely .
Claiming compensation following a manual handling accident
If you have been injured at work while lifting, putting down, pushing, pulling, carrying, or moving an object, and this has caused you loss of your health and your finances, you may be entitled to compensation if the accident was your employer's fault. Compensation can help fund the cost of any additional medical treatment you require and reduce the financial strain you find yourself in as a result of your accident at work.
At Russell Worth Solicitors we specialise in personal injury claims. If you have
suffered a workplace injury and would like a free claim assessment, please call us now on 0800 028 2060 or complete our Online Claim Assessment.