Chemicals are surprisingly prevalent in our modern world, and not just in large industrial organisations. Even small local businesses such as hairdressers, gardeners, cleaners and pest controllers use chemicals that if not carefully handled, can cause serious injury. Regardless of the size of the business, if chemicals are used, it is the employer's responsibility to make sure that employees are protected from injury and are provided with the full training and equipment necessary to ensure they are kept safe.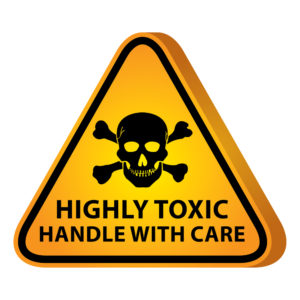 In this article, we will outline the risk implications of chemicals in the workplace, how acute injuries can arise, and how they can be prevented.
It only takes a second for a life to be changed forever
In August 2014, David Crellan, a Chemical Process Engineer, suffered horrific injuries when his legs were accidentally covered in 4,000 litres of 96 percent strength sulphuric acid. The incident occurred in an area of a factory that was described at 'pitch black' to Preston Crown Court. Mr Crellan was left with extensive injuries which required surgery and had left him with difficulties walking and post-traumatic stress disorder. The leak had occurred from a fractured pipe made of 'poor quality' UPVC, which was insufficiently supported and in an area with insufficient lighting. The victim was attempting to repair a leak when he went into the area of a tank holding sulphuric acid. He accidentally stood on the dangerous pipe, causing it to rupture. An investigation by the Health and Safety Executive (HSE) found multiple failings including exposing workers to harmful substances and problems with the pipework and lighting. The employer, AGC Chemicals Europe Ltd, based in Thornton in Lancashire, was fined £300,000 for its failure to protect the safety of its employees.
Under the COSHH
In the UK, employers are legally required to conform to the Control of Substances Hazardous to Health Regulations 2002 (COSHH). These regulations cover all noxious hazards in the workplace (except lead, asbestos and radioactive material, which are covered under their own requirements). COSHH exists to ensure that employers carry out risk assessments, control of exposure, health checks, and incident planning in relation to hazardous substances. Additionally, companies must abide by the Chemicals Hazard Information and Packaging for Supply Regulations 2002 (CHIPS), which ensures that containers and pipes housing hazardous substances are properly labelled.
Chemicals come in many guises
There are many chemicals in the workplace, some of which are obvious, and others less so. Hazardous substances that have the potential to cause an acute injury can be in the form of gas, vapour, solids, liquids, acid, disinfectant, pesticide, paint, glue, petroleum products and caustic substances. Any one of these, if accidentally applied to the body, ingested, inhaled or absorbed (into the skin) can cause serious injury.
If you or a colleague have suffered a chemical burn or poisoning (by ingestion), seek immediate medical assistance. In the event of a chemical burn, the best advice is to rinse the wound with cool running water for at least 20-minutes. If appropriate given the type of chemical that has caused the injury, it may be necessary to apply a specific chemical antidote. If you are assisting a colleague with a chemical burn, be sure to wear protective gloves to protect yourself from injury.
The accidental ingestion of a toxic substance (poisoning) can be fatal. It is critical that an emergency paramedic is requested and if possible, advise them of the name of the toxin. While waiting for medical assistance, do not give the patient anything to eat or drink, do not try to make the person vomit, and remain close to the person to observe them. If they become unconscious, check for breathing and perform CPR if necessary. Crucially do not perform 'mouth to mouth' resuscitation if the patient's airway or mouth is contaminated, and keep them in the recovery position to prevent them choking on vomit.
Protecting employees from chemical injuries
Under the COSHH regulations, it is a legal requirement for all employers to carry out detailed risk assessments and act on them. If a risk of a potential chemical or toxic substance injury is found, there are several approaches which can be used to prevent or control it:
Eliminating or minimising the exposure to the substance by changing the work process
Replacing the substance with one that is less dangerous
Improved ventilation or extraction
Provision of personal protective equipment (eyewear, masks, clothing, gloves etc.)
Enclose the work area to ensure that the substance cannot come into contact with workers
Improved signage, written instructions and safety training
Improved communication to ensure any new risk is quickly and easily alerted to management and workers
In summary
Chemicals and toxic substances are commonplace in many places of work.  If you have suffered a serious injury after coming into contact with a hazardous substance, it is important that you seek medical assistance.  Even if minor, your injury must be reported to your supervisor or manager, to allow the employer to rectify the matter immediately, and prevent injury to others.  If it is the case that your employer did not do enough to ensure that you were not injured, you may be able to make a compensation claim for the damage to your physical and mental well-being, and to cover the costs you have incurred, including loss of income.
At Russell Worth Solicitors we specialise in personal injury claims.  If you have been seriously injured at work by a dangerous substance, please call us now on 0800 028 2060 or complete our Online Claim Assessment.