If you have suffered an injury from a falling or moving object at work after an accident which was not your fault, you may be entitled to claim compensation.  After a recent case saw high street retailer Wilko fined £2.2 million following a "horrific workplace accident" employers should take heed by undertaking their health and safety responsibilities seriously.
The Wilko case
A 20 year old female student working part time in the Leicester store suffered severe spinal injuries and was left paralysed after a heavy metal cage full of paint tins fell on her, whilst she was trying to manoeuvre it over an uneven lift floor.  Her injuries have confined her to a wheelchair.
Wilko admitted four breaches of health and safety legislation.  The lift floor level was uneven and the roll cage incorrectly loaded.  Employees were not provided with adequate training or supervision on the use of roll cages or the safe use of lifts.  Suitable risk assessments had not been carried out and the general risk assessment covering roll cages did not cover the risks involved with manoeuvring on uneven floors.  Finally, no assessment had been carried out on the manual handling of roll cages and employees had not received information on how to safely load the cages.
The judge highlighted 9 failings by Wilko in this case.  The cage was found to be loaded incorrectly and was top heavy making it more liable to tip over.  The judge fined Wilko £2.2 million for failing to ensure the health, safety and welfare of its employees.
Falling from great heights
Objects falling from heights and striking people below can cause serious injuries.  Falling and moving objects account for a large proportion of accidents in the workplace and are most commonly encountered in warehouses, retail, factory, construction and building sites.  Common incidents that result in claims include stock falling from warehouse shelves, unsuitable signs becoming detached, equipment falling over, falling debris and retail products being incorrectly stacked.
Types of injury
The types of injury commonly sustained from being struck by a falling or moving object in the workplace include head, back, collar bone and neck injuries, broken arms and legs and foot and hand injuries.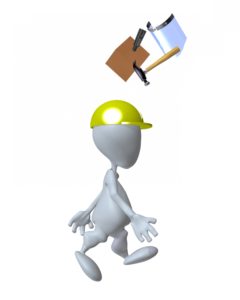 An employer's duties and obligations
If you have suffered an injury through the neglect of your employer or a third party, you could be entitled to claim for compensation.  For example, if your employer has neglected health and safety regulations or a work colleague has dropped an item from above.  Your employer is legally obliged to protect your safety whilst you are at work.  Employers are obliged to carry out risk assessments to determine whether it is necessary to take any action to prevent and reduce the likelihood of an object falling or moving in the workplace and causing injury.
Depending on your working environment, your employer should provide adequate training, protective equipment and hazard signs.  Regular inspections and maintenance of all workplaces, equipment and products should be carried out.  Suitable storage facilities should be used for goods and stock.
Making a claim
Claims at work for an injury caused by a falling or moving object most commonly arise when an employer has failed to adequately ensure the safety of workers or visitors.  If you can show that there has been a failure on the part of your employer to comply with minimum statutory regulations and duties to prevent and minimise the risk of injury, your claim for compensation is likely to succeed.
It is important to ensure that the details of your accident are fully and properly recorded.  You should also have sought medical attention for any injuries sustained.  If it is not clear what caused the accident, it may be possible to conduct a site investigation.
The amount of compensation you are able to claim will be assessed on the facts of your individual case.  The nature and extent of your injury and the prognosis for recovery are considered when determining the level of compensation.  You may also be entitled to claim special damages for loss of earnings, expenses and medical treatment.
Legal advice
Suffering an injury from an accident in the workplace can be extremely painful and have a lasting impact on your life.  Compensation cannot restore your health and well-being but may go some way towards helping you recover or make necessary adjustments to your life depending on the severity of your injury.  Seeking specialist legal advice from a solicitor with expertise in compensation claims for workplace accidents will ensure you recover what you are entitled to.
At Russell Worth Solicitors we specialise in personal injury claims.  If you have suffered an injury as a result of an accident that was not your fault and would like a free claim assessment, please call us now on 0800 028 2060 or complete our Online Claim Assessment.