Many people are understandably concerned that they may lose their job if they seekfinancial compensation after suffering an injury at work. This is absolutely understandable; after all, your job is most likely your only source of income, and it would seem logical that your employer would look on you more unfavourably if they are ordered to pay you thousands of pounds in compensation. Thankfully this is not the case, and the law is on your side. There are a number of reasons why you should never feel as though you cannot make a claim:
1. Your employer is responsible for your well-being at work
Never forget, under the Health and Safety at Work etc Act 1974, your employer is legally responsible for your health and safety. In the words of the Health and Safety Executive (HSE), "It is an employer's duty to protect the health, safety and welfare of their employees and other people who might be affected by their business. Employers must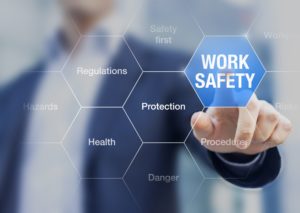 do whatever is reasonably practicable to achieve this" . To achieve this, your employer must constantly be assessing the risks present in their workplace and have a plan to manage and control them. As such, they are duty bound to provide you with a safe working environment, the training you need to undertake your role, any equipment you need to ensure your safety, and equipment that is well maintained and safe to use. If an accident does occur, and if it was due to a failure of your employer to keep you safe, you should not have to foot the cost of re-establishing your health. You worked in good faith, with the expectation that you would go home safely, and this was not upheld, so why should you not seek compensation from your employer?
2. They've got it covered – Employer's Liability Insurance
One of the most important but often misunderstood points is that the claim you make will be paid out by your employer's insurer – your employer will not be out of pocket. Employer's liability insurance is legally required under the Employers' Liability (Compulsory Insurance) Act 1969. This ensures that the cost of any compensation can be met in the event of any injury or disease that you suffer as a result of your occupation. In fact, employers can be fined £2,500 for each day they are not insured – so you can be confident that your employer has a policy in place. And the policy must cover them for a minimum of £5m.
3. They know that if they dismiss you, they face more claims
Your employer knows that if they act unfairly towards you, not only will they face the compensation claim, but they will also face a claim of unfair or constructive dismissal and the associated compensation this can incur.
Unfair dismissal is deemed to have occurred if you are let go for no good reason, or if your employer doesn't follow their own formal disciplinary or dismissal process. If you are 'constructively retired', this is also against the law, unless it can be fully justified. The other possibility is 'constructive dismissal', which occurs when your employer makes life so difficult in your role, you are forced to leave your position.
In the unlikely situation of facing dismissal, or you suspect it may be on the cards, you must speak to a specialist solicitor as soon as possible, as you will only have three months from the date of dismissal to make a claim of unfair or constructive dismissal.
Just knowing that your employer cannot just dismiss you without even greater ramifications for them should give you the confidence that making a claim will not jeopardise your livelihood – and even if they do, compensation is available to you.
I am still unsure if I should claim, what should I do next?
Even given the reassurance that their employer has a legal duty to keep them safe, the employer will expect a claim if they have been negligent, and they won't be out of pocket, some people are still hesitant. If you are facing financial hardship, perhaps due to loss of earnings due to only receiving a statutory payment amount for a prolonged period, and you have suffered emotionally and physically as a result of the accident, call one of our specialist solicitors to discuss your case. We will explain the process and allay your concerns. We specialise in handling complex workplace injury claims, and we know from experience how relieved claimants are when they know that making a claim will not affect their job, and they will be able to focus on their recovery relaxed in the knowledge that they will financially covered for as long as they need following their injury. Remember – your employer is focused on running their business, and while they want to know you are well following your accident, your case will be handled by their insurer.
At Russell Worth Solicitors we specialise in personal injury claims. If you have suffered a workplace injury and would like a free claim assessment, please call us now on 0800 028 2060 or complete our Online Claim Assessment.