Almost everyone has been through a training programme, perhaps when learning to drive a car, provide CPR, or train your pet dog. Many of us have undertaken training in our workplace, much of which occurs during the first few days and weeks after starting a new role. And there is a good reason for this – safety. Under the Health and Safety at Work etc Act 1974 (HSWA), all employers have a duty to ensure workers are safe in their role, and a great deal of this is achieved by ensuring workers are training effectively to understand the dangers they face, and how to avoid them. It might be tempting for some to see workplace training as a 'tick-box' exercise, but nothing could be further from the truth. Employers know that if they don't make clear something that later causes you to be injured, they are liable.
The Management of Health and Safety at Work Regulations 1999 extend beyond the HSWA, making it clear in which situations training is especially important to worker safety – e.g. for new starters, when a new risk is identified, and when training needs to be refreshed.
Employees also have responsibilities, including taking reasonable care for their own safety when at work, advise a supervisor if unsafe practices are seen, reporting any injuries which occur at work, and not operating machinery if taking medication which may make you less alert.
The importance of a robust training programme for workers
Between 2012 and 2017, the average number of workplace fatalities in Great Britain annually was 142, and in 2017 alone, around 609,000 workers suffered non-fatal injuries. If just one fatality could have been prevented by providing or improving training, the justification is clear.
It is important to understand that training is not limited to classroom based learning. Training incorporates any context in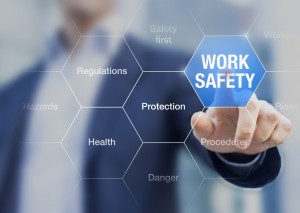 which a worker is given information or is told or shown what to do (or not to do). No matter when and where training is given, it must be planned, consistent, delivered by an individual with the necessary skills and understanding, and be fully understood.
A thorough and well-considered training programme will make sure employees have a strong grasp of health and safety concepts as they relate to their role, reduce the negative impact of accidents in the workplace for everyone, and avoid the significant financial cost of lost productivity and compensation pay-outs not covered by liability insurance.
It can also be tempting to assume those people with the greatest skill or seniority do not require training. Managers and supervisors require training to ensure those they oversee receive the knowledge and information required. In addition, any new health and safety policies and procedures need to be explained to senior individuals to provide effective dissemination throughout the workforce.
In addition, training should also be an ongoing process, and one that employees feel empowered and motivated by. CPD not only increases the skills and knowledge of employees throughout their career, but those organisations who are seen to invest in employees are more attractive to potential staff, and indeed other businesses wishing to engage their services.
The true cost of inadequate training programmes
There is no shortage of examples of serious workplace accidents that, on investigation, were partially or wholly caused by lack of training by the employer. One such accident occurred in 2015, at one of DHL's logistics hubs in Milton Keynes. Worker, Krzysztof Sontowski, originally from Poland, was directing a reversing lorry into a loading bay. As the vehicle reversed, it was supposed to engage with a 'load leveller', a safety device designed to make the floor level between the lorry and unloading ramp. On this occasion, the mechanism became stuck, so he tried to gain the attention of the driver.
Unfortunately, the driver did not notice, and as a result Mr Sontowski's head and torso were trapped between the lorry and the loading bay, causing fatal injuries . On investigation, it was found a similar situation occurred in 2012, but was not adequately dealt with by management. It was also found no training had been provided in the event of the moveable loading platform becoming jammed. DHL admitted it had not undertaken a risk assessment or implemented a safe system of work for "yard activities", which included the use of 'banksmen' and reversing vehicles . In addition to the lack of risk assessment and safe working practices, the judge in the matter reiterated DHL should have implemented a proper training plan for workers.
Have you been injured at work due to lack of proper training?
To bring a claim for financial compensation following a serious accident at work, it must be proven that your employer was negligent, and this directly led to your injury. When you engage our services, we will seek to establish how your employer was negligent – lack of training being one such possible factor. Remember, your employer has a duty to you train you to be able to carry out your duties in a safe manner; if they have failed to do so, and you have suffered a serious accident as a result, you are owed compensation to cover the pain, suffering, and loss you have incurred, including the financial impact your injuries have and will continue to have on your family.
At Russell Worth Solicitors we specialise in personal injury claims. If you have suffered a workplace injury and would like a free claim assessment, please call us now on 0800 028 2060 or complete our Online Claim Assessment.