According to the Health and Safety Executive (HSE), the woodworking sector has one of the highest rates of accidents in manufacturing . This is understandable when you consider the plethora of machines used in the trade to turn trees into ready for sale finished products, including rip saws, cross saws, band saws, surface planers, borers, routers, sanders, nail guns, to name but a few. In this article we will review cases of serious injury in the UK woodworking industry, and what can be done to mitigate the many risks associated with the manufacture and fabrication of wood products.
Lack of basic protection causes serious accidents
In October 2017, Merseyside firm, Kitchencraft Ltd, pleaded guilty to breaching health and safety regulations after one of their employees suffered a horrific incident while using a circular table saw. The man, an apprentice, was using the saw when his hand came into contact with the blade, and as a result, he lost two fingers, and suffered a serious laceration to his thumb. Thankfully surgeons were able to reattach his digits, but the injury meant he would be forced to change careers.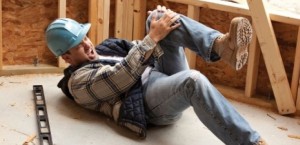 On investigation, it was found the victim's employer had failed on a number of fronts, including not providing training on the safe use of the saw, not being properly supervised, the saw did not have a suitable safety guard, and he had not been given an implement to hold and push wood into the saw. To make matters worse, it was found Kitchencraft did not have Employer's Liability Insurance. Kitchencraft were ordered to pay compensation to the victim of £17,000, and a fine of £2,000, plus £1,000 in costs .
In another case, A & J Scott Limited in Alnwick, a sawmill operator, was fined £400,000 after a man had his leg amputated below the knee. The employee was working on a conveyor feed and edger machine when it became blocked. He climbed into the machine but was pulled in by a moving part, caused his trailing leg to be completely severed. The victim's employer had failed to prevent access to the moving parts of the machine . And this was not the first time A & J Scott has hit the news for such an incident. In 2014, the firm was fined after an employee had two fingers partially amputated after an accident while using an unguarded log-sawing blade.
Preventing injuries while using woodworking machinery
The Provision and Use of Work Equipment Regulations (PUWER) 1998 are designed to ensure owners and employers assess for and implement safe working practices for all machinery, including those used in the woodworking industry.
When assessing woodworking machines for risks, it is important to consider if there is:
proper schedule of maintenance for each machine in accordance with the manufacturer's recommendations
a method of capturing problems on machines, to ensure these are fed back and actioned appropriately
a process to ensure the machine is kept clean and free of obstruction
adequate lighting and ventilation
protective equipment provided – e.g. dust masks, gloves, eye goggles
the equipment necessary for the specific use of the machine provided – including safety mechanisms and guards
a safety cut-off switch
adequate signage for any specific safety instructions
training provided before the use of the machine
Supervision – especially for those who are new to the role
Machine braking – for hand-fed machines, is there an automatic brake as required under the Supply of Machinery (Safety) Regulations 1992 for new woodworking machinery? Or for older machinery, the Approved Code of Practice (ACOP) Safe requires employers to undertake a risk assessment to determine whether the retrofitting of a braking mechanism is required.  The aim of braking is to quickly bring the machine to a 'safe condition in a safe manner'
a stable floor – to ensure its safe use and to minimise vibration and noise
It is also important to ensure the equipment being used is correct for the task being undertaken.
Other factors to consider in woodworking workplaces
There are many other risks when working with wood. It is crucial that the wider work environment is assessed from a health and safety standpoint. For example, it is important to consider how materials and products are stacked; this must be done in a safe manner to prevent collapse or overloading of shelving. Safe stacking of logs is a discipline in its own right, which needs specialist knowledge, as is stacking and packing, banding, yard management, and racking. According to HSE, in previous years, falling wood stacks and boards have caused approximately 20% of fatalities and 13% of major injuries.
I have been seriously injured while working in the wood industry, can I claim?
To bring a successful claim, it is essential to prove your accident was due to the negligence of your employer, and their failure to ensure your safety led to your accident. Compensation can make a considerable difference to victims of serious workplace injuries by making up for any lost earnings (to date and expected in the future), and funding the cost of any additional medical, psychological treatment, and rehabilitation needed.
At Russell Worth Solicitors we specialise in personal injury claims. If you have suffered a workplace injury and would like a free claim assessment, please call us now on 0800 028 2060 or complete our Online Claim Assessment.