For an industry focused on the health and well-being of its customers, the health sector is by no means immune from injuries to its own workers. The Health and Safety Executive (HSE) report that there are approximately 72,000 non-fatal injuries in the field of human health and social work each year. While the number seems high, it is no different to the number for 'all industries'. Nevertheless, the health sector still has a long way to go to be seen to be 'taking its own medicine' with regard to looking after the minds and bodies of its valued workforce.
Putting their own lives on the line
Those working at the front-line of the health sector are often risking their own lives to help others. Ambulance paramedics, accident & emergency personnel, psychiatric clinicians, and social workers are just some of the many health workers who are routinely asked to put themselves into often hostile situations, which may expose them to members of the public who are violent, angry, intoxicated, confused, frightened, or vulnerable. But it is the nature of the work, and often this is the very reason that health workers do what they do – to help those in need.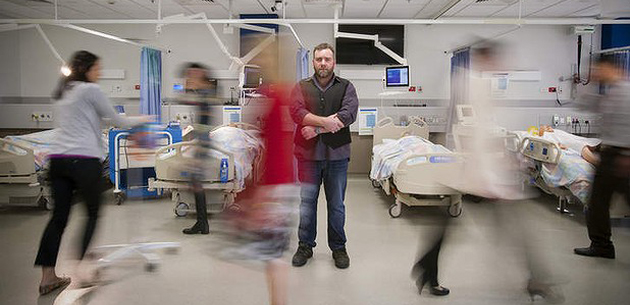 In 2014, Community Care, an organisation providing personal development and advice for those working in the social sector, reported that 85% of social workers were physically assaulted, harassed or verbally abused; and worryingly 70% of those were not investigated. The injuries received on some occasions are life-threatening. In one such example, Claire Selwood, a social worker in County Durham was stabbed six times by a psychiatric patient. She was attacked by the man who had threatened to kill her two days before being discharged into the community (she wasn't advised of this threat and nor was she informed of his discharge). During her ordeal, Ms Selwood nearly bled to death. In what would appear to be a very clear-cut case in her favour, she was actually forced to undergo a seven-year battle to gain compensation for her injuries; a six-figure sum was finally awarded in 2014.
High rates of musculoskeletal disorders
More common than violent attacks in the health system is the prevalence of musculoskeletal disorders (MSDs). In fact, 36% of all work-related injuries in the health sector are classified as MSD's – a classification that incorporates any damage to bones, ligaments, tendons, joints, nerves, vertebral discs, and blood vessels. MSDs affect the limbs, back, and neck, and can include disorders such as carpal tunnel syndrome (a condition whereby the nerves in the wrist become compressed, often due to poor working position), tendonitis, epicondylitis, herniated back discs, sprains & strains, and many others. According to the HSE, such injuries affect 1.7% of all workers in the industry, which is higher than is seen across 'all industries' (1.3%). MSDs can result from occupational overuse, slips, trips and falls, and also lifting and handling accidents; all of which are causal factors which are well established and easily avoided with proper and thorough detection and management of workplace risks. In other words, there are no excuses for these types of accidents.
A needle in a haystack
Every day thousands of healthcare workers are exposed to the risk of infected medical needles. Such injuries can cause great distress for victims because the impact is not known until a series of blood tests are completed, and even then, it can take a long time to know the full effect. So much so, these injuries are deeply feared and have been known to destroy careers. Thankfully the prevalence of serious outcomes resulting from injection needles is rare, due in large part to the considerable improvements in needle safety in recent decades. While standards have improved, some hospitals struggle to keep their staff safe from such injuries. In October 2017, it was reported that Walsall Manor Hospital was fined £80,000 for a range of health and safety breaches, partly due to the 101 sharps and needle-stick injuries which had been reported to the HSE – which represented a 35% increase on the previous year. And more broadly, the organisation MindMetre undertook research in 2015 which revealed that many NHS Trusts are 'flouting' the Health and Safety Executive's (HSE) Health and Safety (Sharps Instruments in Healthcare) Regulations 2013. Using freedom of information requests, the organisation was able to establish that trusts were a long way from being compliant, especially when it came to injections – as it was found that 56% of injection devices used did not have an integrated safety device which protects against needle-stick injuries.
Claiming compensation if you are injured while working in a healthcare setting
If you have incurred pain and suffering following a violent attack, slip, trip or fall, needle stick injury, while lifting and handling, or by any other means while working in the healthcare industry, you may be able to claim compensation. An injury at work can cause you to lose your income for many weeks or months, or much worse, your long-term health and perhaps entire career. Compensation can provide peace of mind while you recover from your injury, by covering your day to day bills, funding additional physical or psychological rehabilitation, any assistive equipment you require, and will also cover the trauma and pain you have suffered. If you are unsure if you should claim, or if you have a valid claim, contact one of our team today. We will help you to understand your rights and whether you have a potential claim. Don't feel that your employer shouldn't have to compensate you financially; in most cases, they are insured for the eventuality, and given what you may have lost, if they were negligent, you have a right to seek recompense for what happened to you.
At Russell Worth Solicitors we specialise in personal injury claims. If you have suffered a workplace injury and would like a free claim assessment, please call us now on 0800 028 2060 or complete our Online Claim Assessment.