If you have been injured as a result of an accident in the workplace which was not your fault, you may be entitled to claim compensation for personal injury. This article looks at the latest figures (relating to the year 2015-2016) published by the Health and Safety Executive (HSE) on the main causes of workplace accidents.
The facts and figures
According to the most recent statistics published by the HSE, 144 workers died in the workplace in 2015-2016 and an estimated 621,000 workers suffered non-fatal injuries as a result of a work related accident.
Fatal injuries
The following 6 types of workplace accident caused three-quarters of all fatal injuries:
falls from height accounted for just over a quarter of all fatal accidents with almost half of these falls being in the construction sector;
struck by a moving vehicle contributed to a further 20% of workplace fatalities;
struck by a moving object;
trapped by something collapsing or overturning;
contact with moving machinery; and
drowning or asphyxiation.
Exposure to an explosion, electrocution, exposure to fire and being injured by an animal caused the remaining quarter of cases.
Non-fatal injuries
The largest causes of non-fatal injuries in the workplace are:
handling, lifting and carrying (estimated 122,000 cases);
slips, trips and falls (estimated 119,000 cases);
struck by a moving object (estimated 61,000 cases);
contact with moving machinery (estimated 44,000 cases);
physical assault (estimated 41,000 cases); and
falls from height (estimated 37,000 cases).
Other notable facts and figures
The HSE's statistics also indicated that: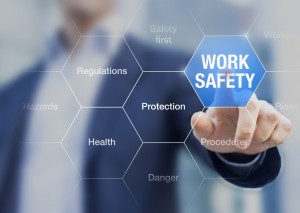 a fracture is the most common injury caused by a workplace accident;
4.3 million working days were lost in 2015-2016 as a result of non-fatal injuries caused by accidents in the workplace; and
if someone is injured by falling from a height they will be off work for an average of 9.4 days.
Reducing your risk
There are a number of factors which add to the risk of an accident happening in the workplace. Being mindful of and complying with the following measures will help reduce your risk of being involved in a workplace accident:
over-exertion which is particularly applicable to injuries caused by handling and lifting heavy objects. If your job requires you to lift and handle heavy objects, be mindful of your capabilities and limits in this regard;
security measuresto protect staff and deter non-workers entering the premises as violence in the workplace most often occurs between an employee and a outside person, such as an ex-partner entering the workplace;
inadequate training. Employers should provide all necessary and adequate training. Employees should ensure that their training is current and they are working in accordance with the training received;
equipment. Ensure you are using the correct equipment for the job and following the guidelines given for use;
safety guidelines are there for a reason and should be strictly adhered to at all times;
repetitiveness can lead to boredom and loss of concentration increasing the likelihood of an accident. Taking breaks and being self aware will reduce the risk;
distractions can lead to compromised health and safety so be mindful of doing anything which may be a distraction to others; and
stress and tiredness. Know your limitations and do not compromise yours or your co-workers health and safety by working when you are not fit to do so.
Making a claim
If you have suffered an injury because of an accident at work which was not your fault, you may be entitled to claim compensation. Your employer is legally obliged to protect your safety whilst you are at work. If your employer has breached its duty of care and failed to adequately ensure the safety of workers or visitors in the workplace and as a result of such failure you sustain an injury, you are likely to be able to establish a claim for compensation arising as a result of your employer's negligence.
The amount of compensation you are entitled to claim will depend on the individual facts of your case, the nature and extent of your injuries and the prognosis for recovery.
Legal advice
Suffering an injury in an accident at work can have a lasting effect. Compensation cannot restore your health and well-being but may go some way towards helping you recover or make any necessary adjustments following an accident. It is prudent to seek specialist legal advice from a solicitor with expertise in workplace accident compensation claims to ensure that you recover what you are entitled to.
At Russell Worth Solicitors we specialise in personal injury claims. If you have suffered an injury as a result of an accident at work that was not your fault and would like a free claim assessment, please call us now on 0800 028 2060 or complete our Online Claim Assessment.