For most, neck pain is a temporary health problem that quickly goes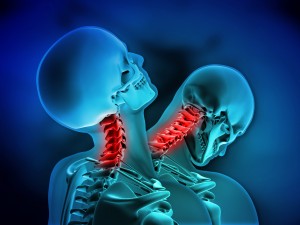 away. But what if you have a neck injury as a result of your occupation which is persistent and debilitating? In the following article, we will discuss how serious neck injuries happen at work, what you can do about them, and if you have suffered loss or damages, how you can make a claim for financial compensation.
Neck injuries can affect the muscles, tendons, ligaments, or bone of the uppermost part of the spine and the base of the skull. If you have been impacted by a serious neck injury, you may be suffering severe pain, reduced range of motion (i.e. unable to move your head fully), anxiety, sleepless nights, and you may even be unable to return to work.
What are the main causes of neck pain at work?
Serious neck related disorders have a range of possible causes, including:
Poor posture while working – the position in which you spend your working day impacts your long-term health. If you spend much of your time staring at a computer monitor that is positioned too high or low, this can put unnecessary strain on your neck. Or if working on a manufacturing production line, repetitive movements or a poorly designed workstation can gradually take its toll on the neck.• Being hit by falling objects – a heavy falling object hitting the head can cause serious damage to the ligaments, tendons, muscles, and bones within the neck.
Slipping or tripping – when slipping or tripping, excessive and jarring forces can cause damage to the neck and upper spine. Such injuries are common due to slippery floors resulting from food spills, ice, and water leaks, objects left blocking access routes, and poorly lit environments.
Falling from height – if a fall from height causes your head and neck to be forced to one side, soft tissue or bone fractures can occur.
Poor manual handling – When moving a heavy object, it is important to do so in a way that ensures your safety. An excessive twisting or sheer force applied to the back or neck when lifting an object or person can cause serious neck and back damage.
Motor vehicle accidents – Whiplash is a common outcome of motor vehicle accidents and can cause serious damage to the delicate structures of the neck, which may impact the victim for months, years, or even for the rest of their life.
It is your employer's responsibility to make sure that in the course of performing your daily work tasks, you are not exposed to the risk of neck related injuries or disorders. And if you have a pre-existing neck condition or previous injury, your employer should be made aware to ensure they do not exacerbate your neck problem.
How serious can neck injuries be?
In their most minor guise (e.g. mild-whiplash), neck injuries are often quickly healed. Moderate neck injuries such as a damaged vertebral disc, or conditions such as cervical spondylosis (arthritis of the neck), may take years to resolve and cause severe pain and disability. The most severe neck injuries due to damage to the spinal cord can lead to full or partial paralysis, such as paraplegia, quadriplegia. Anyone affected by a moderate or severe neck injury may be unable ever to work again and may require ongoing care.
Because of the range of possible health outcomes, accident compensation amounts for occupational neck injuries range considerably.
By engaging Russell Worth to manage your compensation claim, because we have vast experience of handling some of the UK's most complex occupational injury claims, you have the best chance of securing the best possible compensation possible. It is our job to gather the evidence to create the most robust case that leaves no question unanswered by the court.
Can I claim compensation for a neck injury at work?
Your eligibility to bring a claim for workplace accident compensation depends on whether your employer was negligent in their duty to ensure your health and safety. When you contact us, one of our specialist workplace injury solicitors will quickly work to determine if you have a valid claim by looking for evidence of your employer's negligence. For example, if you received a serious neck injury because you were not trained in manual handling, and you suffered an injury as a direct result, or if an unsecured load fell from a pallet due to poor load stacking processes in a warehouse, these may be solid grounds for establishing negligence occurred.
Any evidence you can provide to help prove your employer was at fault may be considered including photographs of the accident scene, and copies of your training record. In addition, we may request copies of your medical records from your GP and/or hospital, and witness statements from other members of staff who observed the accident.
Remember, if you have a serious neck injury due to the fault of your employer, you are entitled to seek compensation for your damages and losses; they are insured for such eventualities.
At Russell Worth Solicitors we specialise in personal injury claims. If you have suffered a workplace injury and would like a free claim assessment, please call us now on 0800 028 2060 or complete our Online Claim Assessment.