Thank you for visiting our website. You have come to the right place! We deal with all types of personal injury claims and expect that of particular interest to you is making an office accident claim. We will try to answer your queries in the article below, however, if your questions are not answered below or you would simply prefer to talk to someone in person, please call us on 0800 028 2060 for a free, no obligation chat about how we may be able to help you.
What type of accidents occur in offices?
Many of us may think that the office environment is a relatively safe place to work within, without much risk of injury. However, accidents do still occur in the office and we often deal with claims on behalf of clients who have been injured in one or more of the following ways:-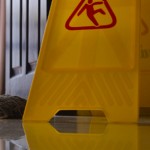 1. Falls. Falls are the most common cause of injury in the workplace. Loose carpeting, trailing wires/leads, boxes etc. left on the floor and wet floors are all culprits for causing accidents and injuries.
2. Lifting. Heavy boxes containing papers can cause a back injury as can incorrectly lifting lighter loads.
3. Workstation. Sitting at a poorly set up desk and working on a VDU for long periods of time can lead to problems such as neck and back strain, eye strain and carpal tunnel syndrome.
The above list is not exhaustive and there are many other causes of office based accidents which lead to injury.
How do I know if my employer is at fault?
All employers have a duty of care to employees to keep them safe during the course of their employment whether this is in an office or on a building site.  This would include ensuring appropriate measures are taken to limit the risk of accident and injury by completing risk assessments and training on things such as manual handling.  If you have been injured at the office and feel this is through your employer's negligence, please contact us on 0800 028 2060 and we can advise you on your rights.
I am worried about my job if I make a claim!
Making a claim against your employer can be daunting and we regularly speak to clients who are concerned about how their employer will react if they proceed with a claim.  We fully understand and appreciate this concern.  What we would say is that no matter how long you have been with your employer and how well you get on with them, making a personal injury claim is not personal.  Your claim is against the company and will be dealt with by their insurance company.  All employers are legally obliged to have employer's liability insurance in place in the event someone gets injured at work and decides to make a claim.   Often, as well as the injury itself, clients have a loss of earnings claim and getting these lost wages back can be vital at such a stressful time.  Why should you not claim if you are eligible? After all, if it were not for your employer's negligence you would not have been injured.
We would encourage you to call us today or complete the free claim assessment below.  We look forward to working with you.
Free Claim Assessment
If you have been injured and would like a free Claim Assessment so that you can discover your rights, please call us now on 0800 028 2060 or complete our Online Claim Assessment.