There is little doubt that Amazon has become synonymous with large-scale warehousing. In the UK alone, there are 16 fulfilment centres, with more planned for 2018. The scale of such warehouses is almost unfathomable; Amazon's Dunfermline warehouse in Scotland, one of the largest warehouses in the UK is the equivalent size of 14 football pitches. And if you add into the equation, all of the warehousing needs of our supermarkets, online retailers, traditional retailers, transport, food, automotive, wholesale, and parcels, the volume of floor space needed to house our goods is extraordinarily high. Estate Agents, Savills, estimate that there are 1,500 warehousing units, which adds up to staggering 424,000,000 square feet, with the majority based in the 'Golden Triangle', in the centre of the country.
Accidents all too common in warehouses
With such a considerable shift towards large-scale warehousing to support the 'on-demand' lifestyle we now live, there are inevitable challenges that must be understood and managed for worker health and safety.
In November 2017, a warehouse worker in the West Midlands was buried under ten bales, each weighing approximately one tonne, while driving a fork-lift truck. Thankfully he was not seriously injured, however, according to the fire brigade Watch Commander who oversaw the four rescue, "he could have easily been killed". And in January of this year, an inquest was held for a man who was killed in a warehousing incident in Coventry. Reginald Bacon, 53, was crushed by the forklift truck he was driving when it collided with a lorry at a warehouse operated by Fortec. According to reports of the incident, it was an accident waiting to happen; fork-lift trucks were "flying around to unload as many pallets as possible". It is understood Mr Bacon who was not wearing a seatbelt, drove his forklift truck towards the lorry which was still moving. The two vehicles collided resulting in the forklift truck toppling over, crushing Mr Bacon fatally.
What are the main risks of warehouses to health and safety?
According to the Health and Safety Executive (HSE), the main risks to health and safety in warehouses are:
Slips
There are often many contributing factors within warehouses that can make workers prone to slipping, including spilt foodstuffs, water, oil, and powders. HSE also states that items such as packing materials, clingfilm, labels that are inherent in warehouses can pose risks if not cleared away.
Non-slip floor surfaces and footwear can both help to reduce the incidence of slips.
Trips
Even, clear and unobstructed floors are essential to preventing worker trips in warehouses. As such, it is essential that all employees are trained and vigilant to the existence of trip risks, and they should take action if potential trip hazards are identified.
Manual handling
Given the sheer quantity of heavy items moving into, around and out of warehouses, it is fundamentally essential that all lifting tasks are assessed in terms of the risk to health and safety, and where necessary a safe system of work should be implemented across the whole operation. An item should be lifted by the most appropriate means, so if manual handling poses a risk, other options such as pallet trucks, hoists, or trolleys should be considered. To make sure that mistakes are avoided, information to help employees make safe decisions should be easily visible – such as weights and handling instructions.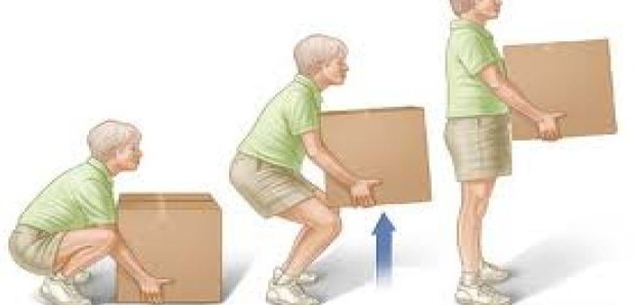 Working at height
Warehouses are designed to maximise storage space by vertically stacking. The workplace must be designed so as to eliminate the need for staff to work at height, and if this is not avoidable, a safe system of working to ensure that height does not pose a risk to the worker must be implemented. This can be achieved by using equipment such as mobile elevated work platforms which are designed to provide a stable base for the worker and capable of handling the load required. Risk assessment & management, and training are essential to control the risk of working at height.
Vehicles in and around the warehouse
While they are essential to the efficient operation of warehouses, vehicles, in their various guises, pose a significant risk to health and safety. As much as possible, the workplace should be designed to ensure that employees are kept completely separate from moving vehicles. This includes using sensors and cameras to monitor reversing vehicles and ensuring that delivery drivers know the layout and rules of the site they are visiting.
Moving or falling objects.
If not managed effectively, there are many potential opportunities for objects to fall or hit employees. Items being stored/stacked must be done so in a manner that prevents objects from falling. Any risks that cannot be fully mitigated should be clearly marked.
Can I claim if I have been injured in a warehouse?
Many workers each year are seriously injured or killed in UK warehouses. If you have been seriously injured while working in a warehouse, you may be able to claim if the accident was caused by a failing of your employer to keep you safe. Perhaps you were not made aware of a risk, given the necessary training or protective equipment, or injured by the actions of another worker. If this was the case, and you have suffered a serious physical and/or psychological trauma, incurred costs, and lost earnings, we can help you recover these.
At Russell Worth Solicitors we specialise in personal injury claims. If you have suffered a workplace injury and would like a free claim assessment, please call us now on 0800 028 2060 or complete our Online Claim Assessment.