In support of the road safety charity, Brake, Russell Worth are helping to spread awareness of Road Safety Week 2015 which runs from 23-29 November. This year we are being encouraged to 'Drive less, live more.'
By driving less, we can make our streets safer for our families, friends and neighbours:
• Every day five people die on UK roads, and over 60 are seriously injured.
• Most road casualties are down to driver error.
• Driving less reduces the number of vehicles on our roads, so can reduce traffic danger in your area.
The Brake Website has some fantastic information on road safety awareness and how we as individuals can do our part to help make our streets safer for walking and cycling.  One idea we particularly like is the GO 20 campaign which is all about putting people's safety first, and empowering us all to enjoy healthy, active lifestyles.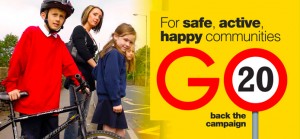 Drivers slowing down to 20mph or below in communities is critical in enabling this to happen.  It helps protect people on foot and bike – especially the most vulnerable, like children, older and disabled people – because it gives drivers a better chance of stopping in time in an emergency.  At 20mph, if a child runs out three car lengths ahead, you should just be able to stop in time.  But at 30mph, you will hit the child at almost full speed, with a chance of killing or injuring them.
Of course accidents will always happen no matter how hard we try to avoid them. Russell Worth have a dedicated specialist road traffic accident team who are here to help you if you have been involved in an accident.  If you or someone you know has been involved in a road traffic accident through no fault of your own please contact us today to see how we can help.
Free QuickClaim Assessment
If you have been injured and would like a free Claim Assessment so that you can discover your rights, please call us now on 0800 028 2060 or complete our Online Claim Assessment.