It may come as a surprise to some that the food and drink is the biggest manufacturing sub-sector in the UK, with a value of £110bn each year, according to the All-Party Parliamentary Group for Food and Drink. In fact, the sector is larger than the automotive and aerospace industries combined . The Food and Drink Federation state their industry employs 117,000 people across approximately 7,000 food and drink businesses, of which 97% are SME's.
Those 7,000 businesses each must abide by strict rules and regulations designed to ensure the health and safety of their employees. Much has been done to improve the well-being of those working in food and drink manufacture, but serious accidents still happen, many of which could easily be avoided.
The food and drink sector is made up of over 30 separate specialities, of which bakery is the largest, followed by meat processing, and then drink manufacture.
Scottish food manufacturer fined £176,000 after worker death
In March 2016, an employee of Bakkavor Foods in Fife was fatally struck by a stack of food trays. Bakkavor Foods, supply many supermarkets including Tesco, M&S, Sainsbury's, and Waitrose. In this incident, a forklift truck struck an empty stack of food trays causing them to collapse onto a member of staff; his injuries were so severe, he died of his injuries two weeks later in hospital. Following a full investigation by the Health and Safety Executive (HSE), a basic lack of separation between the operating forklift truck and employees was found. Bakkavor pleaded guilty to breaching Section 2(1) of the Health and Safety at Work (HSW) etc. Act 1974 and was subsequently fined £176,000 in June 2018.
This is not the first time Bakkavor have been prosecuted for serious negligence with regard to worker safety. In 2015, worker Jacek Adamowicz was killed after he was struck by a falling bale of plastic waste weighing 703kg. He was starved of oxygen due to the accident which crushed his chest. The HSE investigation found that Bakkavor had failed to implement a safe system of stacking bales of waste plastic, train workers on safe stacking, and monitor work in the area – which given the risks present was a clear act of negligence and disregard for worker safety. Bakkavor was fined £2m for their breach of the HSW Act. In addition, in April 2015, the same firm was fined £500,000 after a worker's arm was broken after he was pulled between a conveyor belt and roller; and in 2013 a worker's finger was severed while handling dough balls on a conveyor, leading to a £20,000 fine.
For such a large food manufacturer with a turnover of nearly £2bn in 2017, the series of negligent acts paints a worrying picture of the risks that workers are often placed in, especially when previous prosecutions should have led to improvements, thus all but eliminating such incidents.
What are the causes of worker injuries in the food and drink sector?
A third of all accidents in the food and drink sector is caused by manual handling, and one-quarter is associated with slips and trips (mostly slips).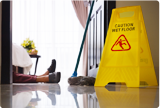 The other factors that lead to workplace accidents in this sector include (in descending order of prevalence), being hit by a moving (or falling) object, moving machinery, falls from height, hitting a stationary object, contact with a harmful substance, being hit by a moving vehicle, injured by an animal, electricity, physical assault, fire/explosion, and drowned/asphyxiated.
Focusing on manual handling injuries (the most common type of accident in the sector), according to the HSE almost all are caused by five common work tasks :
stacking/unstacking containers (such as boxes, crates and sacks)
pushing wheeled racks (such as oven racks and trolleys of produce)
handling drinks containers (such as delivery of casks, kegs and crates)
packing products (such as cheese, confectionery and biscuits)
cutting, boning, jointing, trussing and evisceration (such as meat and poultry)
Reducing risks to worker safety in the food and drink manufacturing industry
All employers must assess all of the risks to workers of injury when carrying out their daily tasks and then introduce control measures. Such measures may include the introduction of mechanisation, which can remove factors which are dangerous to human health, such as bearing excessive weight or repeating tasks. Sacks and boxes of food items can be moved by using full mechanical means (e.g. vacuum lifting or conveyors), or partial mechanical (e.g. scissor lifts with rotating tables). If mechanisation is not feasible, then other control measures should be introduced such as improved supervision, training, reduction of weights being carried, and task rotation. Effective manual handling training can eliminate many incidents of serious injury, as can improved processes and checks to ensure floor surfaces are kept safe, thereby reducing slip related accidents.
If you have been involved in a serious accident at work, you may be entitled to financial compensation for the stress, loss, and damages you have suffered – speak to a member of our team today who will be able to advise if you have a valid case.
At Russell Worth Solicitors we specialise in personal injury claims. If you have suffered a workplace injury and would like a free claim assessment, please call us now on 0800 028 2060 or complete our Online Claim Assessment.