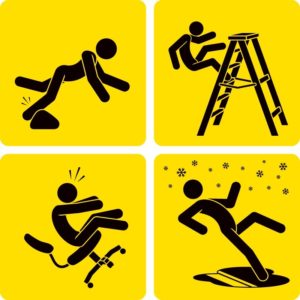 When it comes to injuries at work, slips and trips are truly enemy number one. While often associated with the slap-stick comedy of Laurel and Hardy, such accidents are anything but funny. They have the potential to change lives forever. Over 40 percent of all major workplace accidents are caused by the simple act of tripping or slipping, and can, in many cases, lead to even more serious occurrences, such as being cut by a sharp object, receiving a serious burn or falling from a height. And 23 percent of all injuries requiring an employee to take seven or more days off work, are caused by slips and trips.
The Employers Obligations in Law
Under the Health and Safety at Work etc Act 1974 (HSW Act), employers have a legal duty to ensure that as far as is 'reasonably practicable', employees are kept safe from injury. For any organisation, the legal obligation to ensure safety is a considerable responsibility, given the wide range of potential causes of injury, which may or may not be within their direct control.
There are two further sets of regulations which employers must abide by:
The Management of Health and Safety at Work Regulations 1999 – which states that employers must assess risks in the workplace and mitigate them.
The Workplace (Health, Safety and Welfare) Regulations 1992 – which states that all floor surfaces must be well maintained and not obstructed, ensuring the safety of workers, visitors, and public.
Cases of serious injury due to of workplace slips and trips are all too common
There are almost countless cases of employees incurring serious and often life-changing injuries following a slip, trip or fall at work. One example of a slip which went on to cause a secondary injury is cited by the national union, Unison. It reported that a 16-year-old girl slipped on water leaking from an ice making machine while at work; consequently, she put her arm out to break her fall but placed her hand into a deep fat fryer. The burns she sustained were severe. In this case, it was found that poor work processes meant there was no single individual responsible for ensuring repairs were undertaken, which meant the ice machine in question remained unfixed and posed a serious hazard to workers.
In a similar case earlier this year, Tesco was forced to pay £200,000 in compensation after a member of staff slipped on a water leak on the supermarket floor. This simple slip caused injuries so severe the individual needed to take several months off work. The supermarket giant was found guilty of not only putting the safety of its workers and customers at risk but also not reporting the accident under Reporting of Injuries, Diseases and Dangerous Occurrences Regulations 2013 (RIDDOR) within the mandated 15 days.
Managing the risk of slips, trips and falls
The most important aspect of prevention is identifying and assessing all potential causes of injury in the workplace, using a hazard checklist. It is good practice also to ask employees what they perceive as accidents waiting to happen, some of which may not have been identified already. For every risk, but especially the more significant ones, the employer must decide how best to reduce the likelihood of an injury occurring. Thorough records must be kept of any findings, and any mitigations put in place. Mitigations may include regular scheduled maintenance, installing floor mats, improved clean-up processes, improved footwear, workplace training, and improved signage.
While is it is important for employers to take responsibility for safety, it is also incumbent on the employee to play their role. If an employee has an accident, near-miss, or identifies a potential injury cause, they must report this to their supervisor or health and safety officer immediately, and if possible and safe to do so, remedy the problem themselves. This gives the employer the chance to make any amendments needed. It is also important the employee heeds all advice and information provided by the employer, and uses the safety clothing or equipment provided in the manner required.
Can I claim if I have had a slip or trip at work?
You may be able to make a successful claim for compensation if you have been seriously injured in your workplace if it can be proven that your employer was negligent and this led directly to your slip or trip. If your injury meant you have had to take weeks or months off work, any compensation you win may go a long way to help pay for your living costs and that of any additional medical treatment you may need.
At Russell Worth Solicitors we specialise in personal injury claims. If you have suffered an accident as a result of a slip, trip, or fall at work, and would like a free claim assessment so that you can understand your rights, please call us now on 0800 028 2060 or complete our Online Claim Assessment.