Building demolition is a highly regulated and specialist field in which even the slightest misjudgement can cost lives. Anyone who saw the collapse of Didcot power station in Oxfordshire in early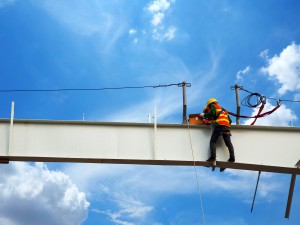 2016 will have seen what can go wrong when demolition is put into inexperienced hands . The Coleman Group, based in Birmingham were given the contract to dismantle the Didcot A coal and gas-fired station – but while the building was being prepared for demolition, it collapsed, killing four workers. In addition, many other workers were seriously injured and treated for dust inhalation. Two years later, in February 2018, it was announced the matter had been referred to the Crown Prosecution Service on the grounds of corporate manslaughter, gross negligence manslaughter, and serious health and safety at work offences.
Prior to the accident in December 2015, the demolition firm's project director, Kieran Conaty, had stated it was the first time they dismantled a power station. Such an accident truly highlights the experience and care needed to ensure demolition projects are carried out without undue risk to workers and public alike.
The law surrounding building demolition
The Construction (Design and Management) Regulations 2015 (CDM 2015) and Control of substances hazardous to health (COSHH) 2002 regulations make it clear that demolition, dismantling and structural changes must be planned and conducted by skilled personnel to prevent danger. The risks to which workers are exposed during demolition work might include:
Falls from height
Injury from falling materials
Uncontrolled collapse
Risks from connected services
Traffic hazards
Hazardous materials
Noise and vibration
Fire
It is vital that demolition is planned and executed by a principal contractor who possesses the required resources, skills, knowledge and experience.
Poorly planned demolition puts workers at risk of serious injury
In July 2018, Riaz Ahmad, who operated a property development company in Manchester was sentenced to eight months imprisonment for serious breaches of health and safety construction law after the roof and wall collapsed on a site undergoing demolition works. Following an investigation by the Health and Safety Executive (HSE), it was discovered many of the internal walls and roof supports had been removed without carrying out the necessary health and safety risk assessments and the appointment of a principal contractor – such actions would have prevented the building collapse and reduced the serious safety risk to workers. In addition, it was found Mr Ahmad did not plan the work, was reliant on unskilled workers, had not considered the risks of working at height, had not given workers basic welfare facilities and ignored significant health hazards. The judge, commenting on the case stated, "This was a very serious case indeed. It was nothing short of a miracle that only one person was injured" .
Demolition explosion injuries
One of the primary safety risks to workers on demolition sites is the use of explosives. The site must be designed to include a drop area, predicted debris area, and a buffer zone – thereby ensuring workers and members of the public not at risk of being hit by demolition debris. There are many other factors which must be considered, including the type of explosives to be used, detonation sequencing, planned pre-weakening and site topography, therefore a primary contractor with the required certification, expertise, and experience must be engaged to plan and carry out explosive demolition work.
If you have been the victim of an injury due to a poorly planned and executed explosive demolition, you may be able to secure compensation for pain, suffering, and loss of amenity.
Bringing a claim for compensation if injured due to unsafe demolition practices
In the event of an accident or injury during building demolition, due to the negligence of those responsible for ensuring the safe undertaking of the work, compensation may be owed to victims and their immediate families.
Negligence may have occurred if the injured party:
fell from height due to the lack of adequate fall protection
was injured by falling materials but was not given personal protective equipment (PPE) such as a hardhat
received inadequate training
was exposed to hazardous material
or any other situation in which their safety was not protected.
If you or a loved one have been seriously injured at work due to poorly planned demolition work on a construction site, it is important to first instruct a specialist workplace personal injury solicitor who will manage the process of securing compensation and allow you to focus on recovering your health. If rehabilitation is required, under the rehabilitation code 2015, we will work closely with the other party's solicitor or insurer to put in place any additional rehabilitative treatment necessary as soon as possible.
It is important to note, under the limitation act 1980, you have three years from the date of the accident to lodge a claim for compensation. Therefore, it is imperative you engage the services of a solicitor as soon as possible, to avoid your claim being struck-out by the court.
At Russell Worth Solicitors we specialise in personal injury claims. If you have suffered a workplace injury and would like a free claim assessment, please call us now on 0800 028 2060 or complete our Online Claim Assessment.