Safety hazards are everywhere in supermarkets; from the moment you park your car, to the check-out, there are many risks to manage to ensure the safety of customers and staff. This article will focus on the legal obligations and duties that supermarkets have to their workers and what to do if an accident does occur.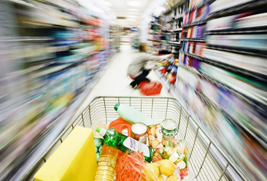 The retail industry in the UK employs over three million people and ensuring worker safety is paramount. Supermarket work may not seem as dangerous as many other more obviously risky occupations, such as agriculture or construction, but the potential for injury is everywhere. Under the Health and Safety at Work etc Act 1974 and the Management of Health and Safety at Work Regulations 1999, supermarket operators have a duty to protect staff from injury at work by identifying, assessing, and reducing risks.
Common types of injuries in supermarkets
RSI / Work Related Upper Limb Disorders – These injuries can impact anyone undertaking a repetitive task (e.g. check-out operators), and can affect the muscles, nerves, tendons, ligaments and joints in the neck, shoulders, arms, wrists, hands and fingers. Sufferers experience numbness, aches, pains, stiffness, weakness, swelling, and tingling in the affected area. While supermarkets are well versed in preventing injuries caused by repetition, any occurrence of these symptoms must be reported to your supervisor, to enable the company to resolve the underlying cause.
Slips and Trips – These are the cause of a considerable number of accidents in supermarkets. Even a small leak from a roof or refrigerator can allow water to pool on often very smooth flooring, becoming an accident waiting to happen. Supermarkets are vigilant to such risks and have strict procedures for dealing with slippery floors. Slips and trips can also be caused by icy conditions outside, items left in the middle of a thoroughfare, mats not laid flat or spilt food/drinks from damaged containers.
Heavy objects – Supermarkets now stock increasingly wider ranges of products, including non-food goods. Many boxes and products can be extremely heavy (e.g. large electrical items) and require proper training to ensure that workers manoeuvre them without causing a back injury.
There are many other potential risks in supermarkets including freezer burns, scalding/heat burns, unsafe workstations, electrocution, lacerations from machinery (e.g. slicing machines), and unsafe racking/shelving leading to falling objects.
In 2011, a 48-year-old woman was seriously hurt when she tripped over a spade which obstructed the floor in a supermarket warehouse. Because of the fall, she suffered damage to her knees, hip and back. To make it worse, the woman had a pre-existing knee injury which was made considerably worse. The woman took four months off work and required assistance with home duties during that time. She received £11,500 in compensation. In a 2002 case, a 47-year-old woman was bitten by a rat in a Sainsburys store where she worked. While she had only minor physical injuries, she went on to suffer 'post-traumatic stress disorder' (PTSD), including a phobia of rats. She was awarded over £7,000 in compensation.
What should you do if you work at a supermarket and have been seriously injured?
Following your accident, it is imperative that you seek medical treatment, even if you think you might be unharmed. It is also important that you inform your employer of your accident. If possible, you should retain any evidence that you have, including photographs of the location of the accident and of the injuries you sustained and details of any witnesses. CCTV camera footage may prove useful if it can be obtained. Medical records can also be requested from the hospital that treated you, or from your GP.
An experienced personal injury solicitor will quickly confirm if you have the basis for a successful claim and will manage the process on your behalf. Once the claim is lodged with the owner of the supermarket and their insurer, they will have a fixed number of days to state if they believe they are liable or not. This will determine if the case will need to go to court.
By instructing Russell Worth to handle your claim, you can be assured that you are in the best hands. Your claim will be managed by a qualified solicitor who is highly experienced in managing and winning cases of this kind. We work on a no-win-no-fee basis, which means you do not need to pay us a fee for our time if your claim is unsuccessful.
At Russell Worth Solicitors we specialise in personal injury claims. If you are employed by a supermarket and have been the victim of an accident or injury at work, please call us now on 0800 028 2060 or complete our Online Claim Assessment.