Slips and trips are a common cause of injury and let's face it you can slip or trip just about anywhere. Some of us are just unlucky and seem to be born with the skill to trip over thin air but what about when you trip or slip due to someone else's negligence?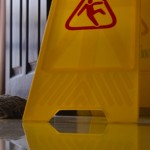 Here at Russell Worth we deal with all types of personal injury claims, not least of all slips and trips. So, if you have been injured following a fall you have come to the right place.
We offer a no obligation, free claim assessment and invite you to call us now on 0800 028 2060 or alternatively complete our Online Claim Assessment following which one of our fully trained, professional and friendly team will call you to discuss the details. Any claims that we take on are done so on a no win no fee basis so there is no financial risk to you.
Slips and Trips at Work
Many of our clients at the outset express concern about making a potential claim against their employer. We understand this as after all we are dependent on the money we earn at work and also would not want to make an uncomfortable atmosphere at a place where we spend much of our time.
What we do ask you to consider however is that making a claim is not personal against your boss directly. All employers, by law, are required to have employer's liability insurance and this policy will cover the cost of any claim made against a company. In fact, once the first contact has been made with your employer they will, in most instances, send the claim onto their insurance company who will then deal with the matter on behalf of the employer.
Slips and Trips outside of Work
There are many places, other than work, where you can be injured following a slip or trip and we have listed a few below:-
1. Potholes in pavements / roads.
2. Ice on pavements roads.
3. Faulty utility grids.
4. Wet floors in supermarkets/shops/pubs/clubs/restaurants.
5. Bad lighting in public or communal areas.
6. Poorly maintained property.
7. Cables and wires.
8. Unsuitable flooring
This list is not exhaustive and you may have slipped or tripped due to another cause. The general rule is that if you have slipped or tripped and injured yourself due to the negligence of another party then you have a potential claim. Of course this is not always the case. For example, if you have slipped on a grape in ASDA and they have cleaning records to show that the shop floor was routinely and regularly checked for spillages then it would not be reasonable to expect them to have done anymore. Sometimes, accidents just happen.
What should I do if I have been involved in a slip or trip accident?
We have drafted guidelines on what to do following any accident to firstly try and minimise the fall out and secondly increase your chances of a successful claim if you decide to take that route. Click here to find out more Click here
Finally, for your free Claim Assessment please call us now on 0800 028 2060 or complete our Online Claim Assessment.
Free Claim Assessment
If you have been injured and would like a free Claim Assessment so that you can discover your rights, please call us now on 0800 028 2060 or complete our Online Claim Assessment.